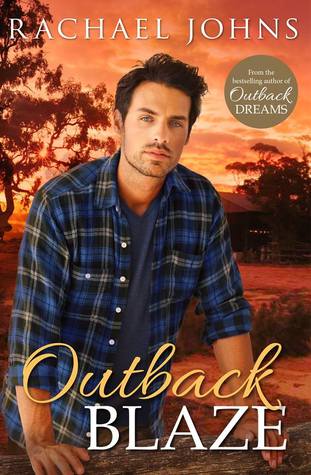 Title: Outback Blaze {Bunyip Bay #2}
Author: Rachael Johns
Published: Harlequin Au May 2014
Status: Read from April 30 to May 01, 2014 — I own a copy   {Courtesy the publisher}
My Thoughts:
In Outback Blaze, Rachael Johns invites us to return to the small Western Australian farming community of Bunyip Bay that she introduced us to in Outback Dreams.
In the time that Ruby Jones has been living with her parents after breaking her engagement, she has begun to feel at home in the community of Bunyip Bay, so when her parent's business is destroyed by fire and investigators determine the cause as arson, Ruby is devastated when rumours start to circulate that her hard working and generous spirited parents could be responsible. Local police officer Drew Noble can't let his attraction to Ruby influence the case but he thinks it unlikely the Jones's are capable of committing insurance fraud. Left with few investigative options, Drew begins to suspect that someone deliberately targeted the family and when Ruby is the victim of a second tragedy, he will do anything to protect her.
Readers familiar with Outback Dreams will recognise Ruby as the character who briefly dated Monty before he and Faith finally worked things out. A relative newcomer to Bunyip Bay, Ruby has escaped an abusive relationship and sought refuge with her parents, working part time in their agricultural store and providing horse riding lessons to local children, while getting involved in community events like the upcoming Bunyip Bay Festival. Despite her painful past Ruby has worked hard to rebuild her life when the fire, and subsequent events, threaten to destroy everything she has achieved.
Like Ruby, Drew is a newcomer to Bunyip Bay. A British police officer forced to participate in an exchange program, he doesn't plan to stay for long, but is nevertheless determined to work hard and do his best for the community. Drew's attraction to Ruby is a complication he can do without, but when Ruby is in danger he realises he can't live his life in limbo forever.
Johns brings these two characters together based on both their physical attraction and their need for company and comfort. It's a fine line for her to walk, due to the ongoing investigation, but the author neatly sidesteps those concerns and carefully develops a believable romance between Ruby and Drew.
This is the first of Johns' rural romance novels to develop a plot that also includes an arc of suspense. Though I think there was potential for the author to push this a bit further, I enjoyed the addition, and was somewhat surprised by the identity of the culprit.
With its appealing characters, sweet romance and interesting mystery, Outback Blaze is another wonderful novel from Rachael Johns. I am already looking forward to revisiting Bunyip Bay in [book:Outback Ghost|18715339], due for release in October 2014.
Outback Blaze is Available to Purchase from
Harlequin I
I Booktopia I via Booko
Also by Rachael Johns