Title: Outback Ghost {Bunyip Bay #3}
Author: Rachael Johns
Published: Harlequin Au October 2014
Status: Read from October 03 to 04, 2014 — I own a copy   {Courtesy the publisher/Netgalley}
My Thoughts:
Outback Ghost is the third book in Rachael Johns' loosely linked Bunyip Bay series, following on from Outback Dreams and Outback Blaze.
Readers familiar with the previous books will recall being introduced to Adam Burton, a former underwear model and third generation farmer, and the whispers about the unresolved disappearance of his seven year old sister when Adam was ten years old. Twenty years later, Adam's mother is still mired in her grief, and his father suddenly announces he has had enough, leaving Adam to take care of their sheep and wheat property, and to welcome their new farm-stay guests.

Stella Reynolds, a waitress, author and single mother is looking forward to spending two months on the Burton farm with her seven year old daughter, eager for Heidi to experience the joys of country living that characterised her own idyllic childhood, before the estrangement with her parents caused by her teenage pregnancy. Within hours of their arrival, Heidi has charmed their landlords, the gorgeous Adam, and his wan mother, adopted a pregnant cat, and even made a new imaginary friend, whom she calls Lily-Blue. Stella should be delighted that her daughter has settled in so well but instead she feels slightly apprehensive about the weeks ahead. At first she attributes her anxiety to her undeniable attraction to Adam, Stella hasn't had so much as a date since Heidi was born, but she is also spooked by the unexplained noises she sometimes hears in the cottage and her discovery that her daughter's imaginary friend shares the same name as Adam's missing sister.
While at its core Outback ghost is a contemporary rural romance featuring the development of the relationship between Adam and Stella, the plot includes an interesting element of mystery and a hint of the supernatural. It is a heartwarming story about love, family and belonging but with a bittersweet twist when it reveals the fate of Lily-Blue.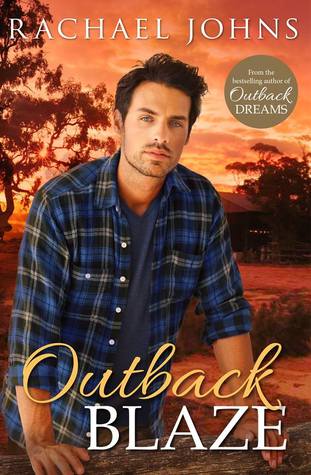 It's a delight to revisit the community of Bunyip Bay, and glimpse familiar characters from previous stories. Johns protagonists are always well developed and I enjoyed getting to know Adam and Stella. Adam doesn't flinch from the responsibility of the farm, and caring for his mother. He carries around a fair bit of guilt over his sister's disappearance, and for the aftermath, yet he hasn't let it consume him entirely. Stella is a likeable, capable and admirable heroine who deals with challenging circumstances with determination and grace. She is a little guarded, understandably so, so I really liked watching her open up to Adam and form tentative friendships with Frankie and Ruby. Heidi is a definite scene stealer, affectionate, sweet natured and lively, she is an adorable character. Few authors manage to portray child characters realistically but I think Johns does so perfectly here.
Outback Ghost is my favourite novel of the Bunyip Bay series, and was supposed to be last, however I believe Johns has decided to revisit the town eventually and give Frankie an opportunity to find love… I can't wait.
Outback Ghost is available to purchase from
Harlequin Au I
I Booktopia I Bookworld I via Booko
and all good bookstores.