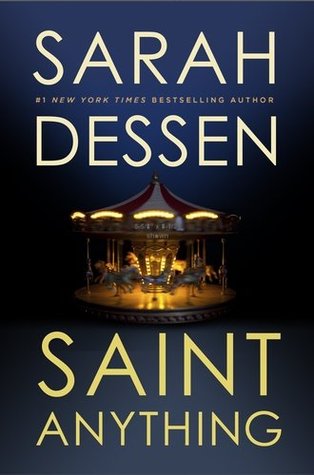 Title: Saint Anything
Author: Sarah Dessen
Published: PenguinTeen Australia May 2015
Status: Read from May 16 to 18, 2015 — I own a copy   {Courtesy the publisher/Netgalley}
My Thoughts:
"I was used to being invisible. People rarely saw me, and if they did, they never looked close. I wasn't shiny and charming like my brother, stunning and graceful like my mother, or smart and dynamic like my friends. That's the thing though. You always think you want to be noticed. Until you are."
Saint Anything is a thoughtful contemporary tale exploring the themes of family, self discovery, belonging, and change.
Sydney Stanford is used to living in the shadow of her charismatic, if rebellious, older brother Peyton, but when he is convicted and imprisoned for a drink driving offense that left a fifteen year old paralysed, she struggles under the burden of his reflected guilt.
Hoping to escape the gossip, and ease her parents financial burden, Sydney opts to transfer from her exclusive private school to a local public high school, where she befriends Layla Chatham and her brother Mac, after a chance meeting in the pizza parlour their parents own. Welcomed by the Chatham's, and their friends, Sydney's burden lightens but escaping her brother's legacy will not be that simple.
Sydney feels as if she is the only one that carries the burden of Peyton's actions. She is angry and frustrated by her mother's seeming failure to acknowledge her brother's guilt, or Sydney's feeling about the situation, but can't discuss the matter with her, as her mother is focused only on supporting Peyton.
"When she spoke again her voice had an hard edge to it. "It's very scary. Especially for your brother, who is locked away, alone, with no support system other than us, his family….If he can deal with that for seventeen months," she continues, "I think you can handle being slightly uncomfortable for a few hours. Don't you agree?"
With her parents distracted, and Sydney unwilling to make demands on them, she finds freedom to be herself in her friendship with Layla, and her burgeoning romance with Mac. I really liked the way Dessen developed these relationships, which are warm and realistic and equally as important to Sydney.
But with a single mistake everything begins to fall apart. I was itching for Sydney to stand up for herself, both with her parents and Ames, but I think Dessen stays true to her character. Sydney has to develop the confidence and a surer sense of self before she can stand her ground.
"Why are you being like this?" I asked her. "I'm not a bad kid, and you know it, This was one night, one thing. One mistake. And I'm sorry. But you can't-"
"Your brother started with one mistake as well, she replied. "Which led to another. And another."
"I'm not Peyton" I said. It seemed crazy I'd have to say this, as all my life they'd made it clear it was the one thing they knew for sure.
Sydney's story is one that would often be overlooked in favour of Peyton's drama or his victim's tragedy, but Dessen ensures it is just as important and affecting. Saint Anything is a quiet but emotionally powerful novel, thoughtful and beautifully written.
Saint Anything is available to purchase from
Penguin I
I Booktopia I Amazon AU I  via Booko
BookDepository  I Amazon US I Indiebound
and all good bookstores.