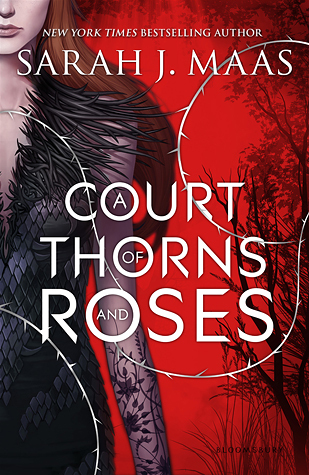 Title: A Court of Thorn and Roses {A Court of Thor and Roses #1}
Author: Sarah J Maas
Published: Bloomsbury May 2015
Status: Read from May 14 to 16, 2015 — I own a copy  {Courtesy the publisher}
My Thoughts:
As a huge fan of Sarah J Maas's 'Throne of Glass' series, I've been excited about the release of A Court of Thorn and Roses, the first book in a new trilogy, blending fae lore with a retelling of the Beauty and the Beast fable.
In the depths of winter, Fayre is fighting to keep her poverty stricken family alive when she kills a wolf, unaware he is a creature of the fae. Having unwittingly broken the centuries old treaty made between the humans and their kind, she willingly submits to the penalty to protect her family and is dragged to Prythia by the beast that demands it, expecting to be killed, enslaved or worse by the race that once slaughtered humans for sport.
Instead the beast, who is not exactly a monster at all but rather a High Fae with shape shifting abilities, offers her a life of ease in his court but can Fayre really trust the word of a Faerie, especially when something dark and wicked lurks close by?
I really liked the character of Fayre, she is a strong willed, fierce and passionate, though not without her vulnerabilities. She struggles to adjust to her new life in Prythia and is understandably slow to trust Tamlin but once she gives in to her fate she embraces it wholeheartedly.
It isn't until Fayre is captive in Prythia that Tamlin reveals his true self, not just High Fae, he is the devastatingly handsome and powerful High Lord of the Spring Court. Tamlin though is also cursed, condemned to wear a masquerade mask with weakening powers, by what he explains to Fayre is a blight that has been poisoning the magic in the realm.
The nature and source of the 'blight' provides the major arc of conflict for the novel. I won't give it away but I will say it surprised me. I enjoyed the action and drama of the story, particularly in the climatic final chapters, but I did feel that the story lagged somewhat in the middle. Fayre's time in the Spring Court is largely uneventful, with most of the action happening 'off the page', while Fayre sort of wanders around with her easel.
And as to be expected, romance develops between Fayre and Tamlin. There are some intimate scenes between the couple, but nothing too explicit. There is also the potential for a love triangle of sorts with the introduction of the enigmatic High Lord of the Night Court, Rhysand.
While I wasn't wholly enamored by A Court of Thorn and Roses I did enjoy the characters and the world Maas has built and I will be picking up the next book, as yet untitled, as soon as it is available.
A Court of Thorn and Roses is available to purchase from
Bloomsbury I
I Booktopia I Amazon AU I  via Booko
BookDepository  I Amazon US I Indiebound
and all good bookstores.
Also by Sarah J Maas reviewed on Book'd Out