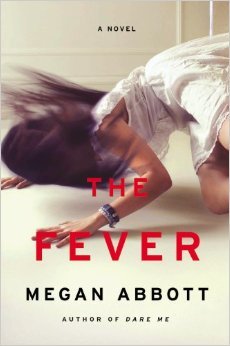 Title: The Fever
Author: Megan Abbott
Published: Little Brown & Co June 2014
Status: Read from June 16 to 17, 2014 – I own a copy {Courtesy the publisher/Netgalley}
My Thoughts:
Megan Abbott has created an unsettling thriller with The Fever.
Set in an ordinary small town idyll, The Fever begins when Deenie witnesses her best friend, Lise, suffering a frightening convulsion in class. Less than twenty four hours later, Lise is in a coma and, with the health authorities unable to determine a cause, when a second, and then a third girl, fall ill the community begins to panic. As the unidentified contagion spreads, rumours swell, blame is apportioned, and still there are no answers…
While the community, growing ever more hysterical, looks for something, or someone, to blame, it slowly becomes apparent that the cause of the affliction is infinitely more simple, and complex, than a toxic lake or contaminated vaccine.
Best friends, Deenie, Lise and Gabby are the teenage girls at the center of The Fever. When the illness strikes the three are in the throes of renegotiating their friendship which has become a tangle of love, possessiveness, loyalty and envy as they grapple with the complications of adolescence.
Of the three girls, it is only Deenie who has a narrative voice, which has a hazy, almost dream like quality, playing perfectly into the uncertainties of the plot. Obsessed with her own fears and concerns, Deenie is not the reliable narrator she first presents as.
There is not a lot of overt action in The Fever, much of the truth of this story lies just under the surface of what is happening. I thought the pacing was superb, nurturing an increasing sense of unease as the story unfolds.
The 'fever', we eventually learn, is a symptom – of the confusion and angst of female adolescence, of damaged families, and cultural fears – masterfully explored by Megan Abbott. A darkly compelling novel, The Fever is an intriguing mystery and mesmerising psychological study.
Available to purchase from
Hachette US I BookDepository I Amazon US