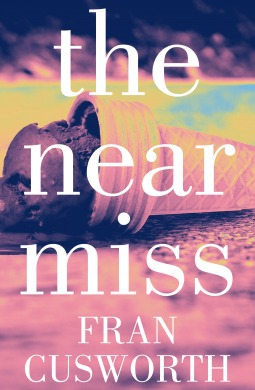 Title: The Near Miss
Author: Fran Cusworth
Published: Harper Collins AU November 2015
Status: Read from November 30 to December 02, 2015   – I own a copy
"Grace, hardworking and tired, wants another baby. But she's dealing with debt, a manic 4-year-old and a jobless husband determined to make his inventions into reality. Can they both get their way, or will competing dreams tear their marriage apart?
Eddy analyses risk for a living, but his insecurities have brought his own life to a halt. He won't let go of the flighty, unfaithful Romy, but will he ever risk believing in himself?
Melody is trying to raise her son Skip in the city while holding true to her hippie lifestyle. But will past mistakes and judgement from other parents force her to leave her beliefs behind?
My Thoughts:
On a sunny afternoon, Grace's young daughter Lotte, darts recklessly onto a busy road. Melody, sharing an icecream with her son Skipper, reacts instinctively to save her as Eddy, heading home from work, slams on his brakes and holds his breath. It's a near miss, and a grateful Grace invites Melody and Eddy to dinner as a gesture of thanks.
"Years later Melody would wonder what might have happened had Romy and Eddy gone tidily home to their lives. The dinner party probably would have ended with them all saying goodbye at the earliest polite point. Some lives might not have ended in the way they did. Others might not have begun at all."
The dinner party is a bit of a disaster, given they share little in common. Grace tries too hard, Melody is bored, and Eddy is devastated when his girlfriend, Romy, leaves with Melody's plus one, and doesn't come back. Yet circumstance conspires to keep them within reach of each other's orbit as time moves on.
'It's no one's fault. It's just the pick-up-sticks of the universe, falling in a certain way. Now we look at what's there and work out how to make the best of it.'
This is a character driven novel that unfolds over the course of about a year. Grace's marriage collapses and she struggles with her new reality as a single mum. Melody continues to rely on her mantra 'the universe will provide' and just when Eddy is ready to move on, Romy comes back.
At the heart of the story lies the theme of friendship, and how the 'near miss' serves as an unexpected catalyst which sparks the formation of a bond between three very disparate people.
Unfortunately I didn't really connect with the characters in a way which allowed me to become invested in their unspooling lives. It seemed obvious that Grace and her husband would find their way back to each other. I thought Eddy was boring, and I cared not a whit for Romy's fate. Melody, I felt, was more flaky and vaguely irritating, than spiritual and enigmatic.
I have enjoyed several other novels by Fran Cusworth, most particularly Sisters of Spicefield, but for me The Near Miss was unremarkable and mundane. Goodreads reviews suggest I'm in the minority though, so it seems to be a case of 'me, not you'.
Available via
Harper Collins AU I HarperCollins US