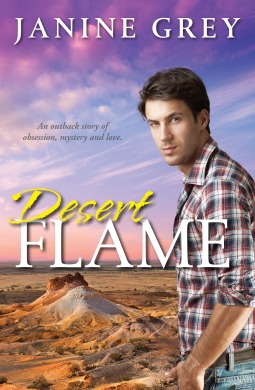 Title: Desert Flame
Author: Janine Grey
Published: Michael Joseph: Penguin Jan 2016
Status: Read on January 19, 2016 — I own a copy   {Courtesy the publisher}
My Thoughts:
Desert Flame is a contemporary novel of romantic suspense set in rural Australia from author Janine Grey.
Eliza Mayberry is stunned when she learns her late father's company is near bankrupt. With little left of her former life of privilege except the company name, 'KinSearchers' Eliza agrees to assist the firms single remaining client who wants Eliza to meet his long lost great nephew. Eliza's search leads her to an opal claim near Lightning Ridge in outback New South Wales where she meets the disturbingly attractive Fingal McLeod, who couldn't be less interested in reuniting with the family who abandoned he and his mother.
Fin's focus is on his search for the rare Dark Flame opal to provide security for his ailing mother but Eliza proves to be a distraction he can't ignore. The relationship between Eliza and Fin is initially based on mutual attraction and lust, which soon develops into admiration and respect as they get to know one another. The development is perhaps a little rushed but I did enjoy the romance. There are several intimate encounters in the novel and I thought they were well written, offering something more interesting (especially that outdoor shower spectacle) than the standard soft focus bedroom scenes.
Several threads of mild suspense run through Desert Flame. The first involves the suspicious behaviour of Fin's mother's long term companion, the second a series of mishaps at the mine, and the third involves the fate of Logan McLeod, Fin's deadbeat dad. Grey balances the multiple story arcs well with the burgeoning relationship, creating a novel with an engaging mix of drama, tension and romance.
Humour springs from the quirky townspeople of Helton, such as cheeky Mick and the brassy barmaid. I thought Grey's vivid descriptions of the mine and its surrounds evoked the heat, dust and isolation of the region. The only real flaw perhaps was the pacing which I felt was a little slow at times.
A quick and pleasant read, I enjoyed Desert Flame and I'd recommend it to fans of the genre.
Available via

Penguin I
I Booktopia I Amazon AU I  via Booko