The It's Monday! What Are You Reading meme is now hosted at Book Date
Life…
It's been a fairly quiet week. My youngest daughter is currently at the 2016 Australian Jamboree with over 10,000 other scouts, my oldest daughter has been spending time with her new boyfriend, and my boys are Minecrafting their way into the record books.
I'm still working on catching up though, mainly because getting time on my computer is a battle!
What I've Read Since I last Posted
A Window Opens by Elisabeth Egan
A Thousand Naked Strangers by Kevin Hazzard
That Empty Feeling by Peter Corris
Slim Pickins' in Fat Chance, Texas by Celia Bonaduce
New Posts
(several links are placeholders until I can get caught up)
Feature Guest Post: How Sally Hepworth came to write The Things We Keep
Review: The Things We Keep by Sally Hepworth
Review: It's.Nice.Outside. by Jim Kokoris
Review: A Window Opens by Elisabeth Egan
Review: A Thousand Naked Strangers by Kevin Hazzard
Review: That Empty Feeling by Peter Corris
Sign up to host in the 2016 Australia Day Book Giveaway Hop
What I Am Reading Today
The grass always seems greener on the other side . . . until you get there. For generations Bronwyn Stevenson's family has thrived in the legal profession and a position at their prestigious firm is hers by right. Only problem is: she doesn't want it. Her best friend Claudia has always dreamed of being a lawyer, but tragedy struck and she took up the reins of her father's vineyard instead. It was supposed to be temporary . . . now there's no end in sight. Bronwyn wants Claudia's life so badly. Claudia can't imagine anything better than Bronwyn's job. So the friends hatch a crazy plan to swap places. Both are determined to be the person they always thought they could never be. But achieving your dreams isn't easy – and falling in love with the men who oppose them isn't a good idea .
 

What I Plan To Read This Week

(click the covers to view at Goodreads)
Splinter the Silence is a novel centered on the mysterious deaths of several women who were the victims of vicious cyberbullying. Is it violence if it's virtual? The outspoken women targeted by the increasingly cruel internet trolls and bullies would probably say so. For some of them, the torrents of bile and vicious threats prove too much. They begin to silence themselves in a series of high-profile suicides.  Or do they? Tony Hill isn't convinced. But he's the only one. Former cop Carol Jordan is too busy messing up her life to care. Until she gets an unexpected second chance. Now it's game on, and the stakes have never been higher.
In this timely and provocative novel, internationally bestselling author Sarah Pekkanen takes us inside a family in crisis and a marriage on the brink after a tragic shooting. How far would you go to save your family? Every morning, as her husband Mike straps on his SIG Sauer and pulls on his heavy Magnum boots, Jamie Anderson tenses up. Then comes the call she has always dreaded: There's been a shooting at police headquarters. Mike isn't hurt, but his long-time partner is grievously injured. As weeks pass and her husband's insomnia and disconnectedness mount, Jamie realizes he is an invisible casualty of the attack. Then the phone rings again. Another shooting; but this time Mike has pulled the trigger. But the shooting does more than just alter Jamie's world. It's about to change everything for two other women. Christie Simmons, Mike's flamboyant ex, sees the tragedy as an opportunity for a second chance with Mike. And Jamie's younger sister, Lou, must face her own losses to help the big sister who raised her. As the press descends and public cries of police brutality swell, Jamie tries desperately to hold together her family, no matter what it takes.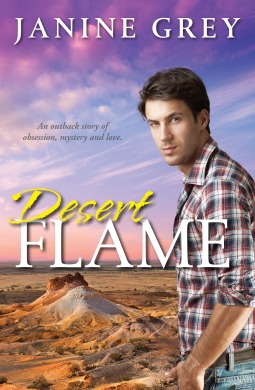 When her beloved father dies, Eliza Mayberry's privileged world comes crashing down around her ears. On the verge of losing the business that has been in her family for generations, she has no option but to take over the last remaining case: tracking down the elusive Fingal McLeod in outback New South Wales and bringing him back to Sydney.  Fin, however, has other ideas. Determined to find the legendary Dark Flame, a rare opal that has eluded opal-hunters for decades, he has no intention of leaving his mine, Rebel's Ruin, to reunite with the family of the man who abandoned him – even for the beguiling Miss Mayberry.  Drawn to the people and starkly beautiful landscape of the desert, Eliza discovers the new start that she's been seeking in this unlikely place and with a man who is as infuriating as he is intriguing. But as passion blooms under the scorching outback sun, secrets from the past and present are bubbling below the surface – secrets that could destroy both the fragile trust between Eliza and Fin, and the bright promise of the future.
A death in a historic castle, locked up overnight. It almost looks like a suicide, but then Sean Duffy pulls on a few little threads, and the whole Establishment could come undone
It's just the same things over and again for Sean Duffy. Riot duty. Heartbreak. Cases he can solve but never get to court. But what detective gets two locked room mysteries in one career? When journalist Lily Bigelow is found dead in the snowy courtyard of Carrickfergus castle, it looks like a suicide. But there are just a few things that bother Duffy enough to keep the case file open. Which is how he finds out that she was working on a devastating investigation of corruption and abuse at the highest levels of power in the UK and beyond. And so Duffy has two impossible problems on his desk: who killed Lily Bigelow? And what were they trying to hide?
***********
Sign Up for the 2016 Eclectic Reader Challenge
Thanks for stopping by!