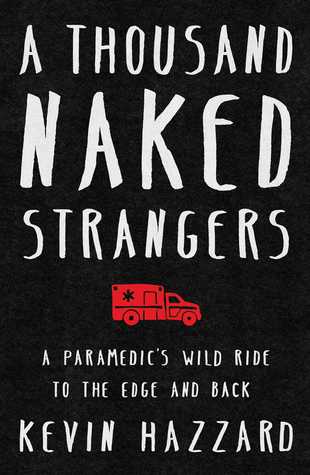 Title: A Thousand Naked Strangers: A Paramedic's Wild Ride to the Edge and Back
Author: Kevin Hazzard
Published: Scribner January 2016
Status: Read on January 07, 2016 — I own a copy   {Courtesy the publisher/netgalley}
My Thoughts:
A Thousand Naked Strangers is an interesting and fast paced account of Kevin Hazzard's decade long tenure as a paramedic in Atlanta, Georgia.
At age twenty six, after just eight months of a part time course Emergency Medical Training, and a brief period spent at a rather disreputable private ambulance service ferrying around chronically ill and nursing home patients, Kevin finds himself riding shot gun in a 911 ambulance with a near burnt out partner, responding to calls in some of the worst areas of Atlanta.
EMS is the greatest show I've ever seen, except its not a show, it's all real. No, it's more than that -it's reality distilled and boiled down to its essence. It's life and (hopefully) death, and unlike the general public, I'm invited and allowed to wander freely amid the debris. So send me anything."
Hazzard details his first few months on the job as he grows in confidence as an EMT, enjoying the novelty, despite a frustrating rotation of partners. However, it's not until he is teamed with Chris, a career medic, that he begins to view his job as a calling, and decides to upgrade his qualification to become a paramedic, eventually joining the sought after Grady Trauma service.
Hazzard punctuates his narrative with sometimes bloody and often bizarre vignettes of injury and tragedy, severed toes, shattered skulls, choking dogs, angry drunks, and shirtless crack heads. Squeamish readers may not appreciate Hazzard's descriptions or his dark sense of humour that medicos are famed for, but I admired his candor.
"I just put my hand in brain"
"What'd it feel like?"
"Squishy."
Eventually Hazzard's service begins to take an emotional toll, it is a stressful, often thankless job and eventually the adrenaline fades.
A Thousand Naked Strangers is a gritty, thrilling and compelling glimpse into the world of a paramedic.
Available via
Simon & Schuster US I AmazonUS I Book Depository I IndieBound