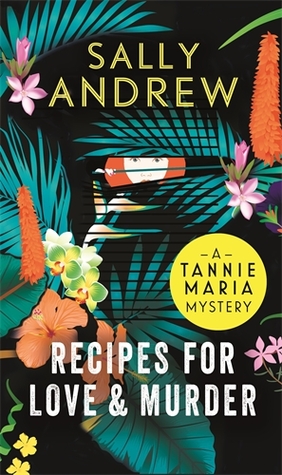 Title: Recipes for Love and Murder {Tannie Maria #1}
Author: Sally Andrew
Published: Canongate Books September 2015
Status: Read from November 27 to 30, 2015   – I own a copy
My Thoughts:
"Recipe for Murder
1 stocky man who abuses his wife
1 small tender wife
1 medium-sized tough woman in love with the wife
1 double-barrelled shotgun
1 small Karoo town marinated in secrets
3 bottles of Klipdrift brandy
3 little ducks
1 bottle of pomegranate juice
1 handful of chilli peppers
1 mild gardener
1 fire poker
1 red-hot New Yorker
7 Seventh-day Adventists (prepared for The End of the World)
1 hard-boiled investigative journalist
1 soft amateur detective
2 cool policemen
1 lamb
1 handful of red herrings and suspects mixed together
Pinch of greed
Throw all the ingredients into a big pot and simmer slowly, stirring with a wooden spoon for a few years. Add the ducks, chillies and brandy towards the end and turn up the heat"
Recipes for Love and Murder is a delightful mystery set in Klein Karoo, South Africa from Sally Andrew.
Tannie (Aunty) Marie is the Klein Karoo's Gazette recipe columnist, but with recent budget cuts affecting the small three person newspaper, she is also tasked to take over the role of Agony Aunt. It's a job Tannie Marie takes seriously, dispensing wisdom, and recipes, to suit any situation. However it is a letter from 'Bereft Woman' suffering at the hands of her abusive husband that greatly worries Tannie Marie, and when she learns of her death she is determined to see justice is done.
Sprinkled with Afrikaans words and phrases Andrew creates such a wonderful sense of both place, and character. Marie relies on her colleagues, and friends,  Hattie and Jessie to help her investigate the murder, and meets a slightly over protective but well meaning, and handsome, detective.
Despite the delicious appeal of the recipes in this story, Andrew explores some sensitive issues, such as domestic violence, of which Marie was once a victim, PTSD, homosexuality and of course, murder..there is not just one but two by the end of the book, plus a kidnapping and a near miss for Tannie Marie.
While similarities can be drawn between this book and Alexander McCall Smith's No.1 Lady Detective series set in Botswana, Recipes for Love and Murder has its own distinct charm, and I hope to read more from Sally Andrew.
Available via
Canongate I Amazon UK I Amazon US I Amazon AU