The It's Monday! What Are You Reading meme is hosted at Book Journey.
Life…
Did I mention it's school holidays?
What I Read Last Week
Cloudwish by Fiona Wood
Menagerie by Rachel Vincent
The Saddler Boys by Fiona Palmer
The Perfumer's Secret by Fiona McIntosh
Part of Our Lives: A People's History of the American Public Library by Wayne A. Weigand
Prick with a Fork by Larissa Dubecki
New Posts
(click the titles to read my reviews)
Review & Giveaway: Cloudwish by Fiona Wood ★★★★1/2

Review: Menagerie by Rachael Vincent ★★★★1/2
Review: The Saddler Boys by Fiona Palmer ★★★1/2
Review: The Perfumer's Secret by  Fiona McIntosh ★★★1/2
Review: Part of Our Lives by Wayne A Weigand ★★★1/2
Weekend Cooking: Prick with a Fork by Larissa Dubecki ★★★1/2
What I Am Reading Today
The lone swimmer, turning over now to switch to a perfectly executed back crawl, wasn't Oxford or Cambridge, wasn't a man. It was a woman, a girl. It was Catherine. Of course it was Catherine. It's 1925 and fifteen-year-old Catherine Quick longs to feel once more the warm waters of her home, to strike out into the ocean off the Torres Strait Islands and swim, as she's done since she was a tiny child. But with her recent move to London where she lives with her aunt Louisa, Catherine feels that everything she values has been stripped away. Louisa, a busy, confident London surgeon who fought boldly for equality for women, holds definite views on the behaviour of her young niece. She wants Catherine to pursue an education, just as she did, to ensure her future freedom. Since Catherine arrived, however, Louisa's every step seems to be wrong and she is finding it harder and harder to block painful memories from her past. It takes the influence of enigmatic American banker Manfred Lear Black to convince Louisa to come to New York where Catherine can test her mettle against the first women in the world to swim the English Channel. And where, unexpectedly, Louisa can finally listen to what her own heart tells her. Like Mary-Rose MacColl's bestselling novel, In Falling Snow, Swimming Home tells a story of ordinary women who became extraordinary.
 

What I Plan To Read This Week

(click the covers to view at Goodreads)
A vintage wedding dress reveals family secrets she never knew… The chance discovery of a vintage wedding dress weaves together the fascinating stories of three women from different eras: Sophie, in hiding from a troubled past; Belle, who must lose everything to learn what really matters; and Martha, forced to give up those she loves in order to avoid exposure. It's 1930 and Belle Bartholomew has arrived in rural Sweet Wattle Creek to claim her inheritance – a run-down grand hotel formerly owned by Martha Ambrose. Determined to solve the mystery of her birth and the reason why she was bequeathed the hotel Belle runs into difficulties with the townsfolk and their desire to keep their secrets safe. Sixty years later Sophie Matheson is on a quest to find Belle and her family after discovering the wedding dress. The Sweet Wattle Creek Centenary brings more challenges when her past catches up and she must fight for all that matters to her. Who were Belle and Martha and what links their lives together?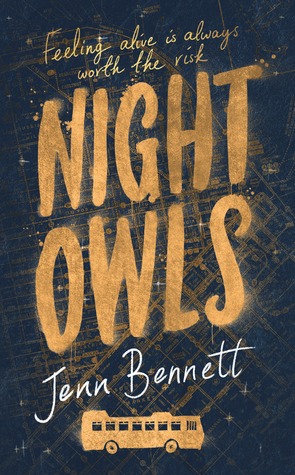 Feeling alive is always worth the risk. Meeting Jack on the Owl—San Francisco's night bus—turns Beatrix's world upside down. Jack is charming, wildly attractive…and possibly one of San Francisco's most notorious graffiti artists. But Jack is hiding a piece of himself. On midnight rides and city rooftops, Beatrix begins to see who this enigmatic boy really is.
Behind the toddler-proof gate of Santa Monica's exclusive Garden of Happiness, it's the grown-ups who are getting schooled. When new preschool parent Justine discovers that the man who broke her heart back in grad school is a dad in her daughter's class, she tells herself she's immune to the superficial charms of the ex she calls "the crapwizard." But when his presence opens a time tunnel of potent memories from her life before motherhood, she must find a way to defuse her old attraction to him before it undermines her marriage. Then there's Ruben, rookie stay-at-home dad and standup comic who quits his day job to pursue his TV-writing dream on his wife's condition that he take her place among the "power mommies" on the school committees. And ruling the sand box with an iron fist is Margaret, whose ongoing divorce from her dentist-turned-New Age-surfer husband forces her to rely on her dubious people skills in order to keep the school that has become the cornerstone of her identity. When the new school year kicks off with a flight-risk rabbit named Ozone, a school secretary in desperate need of a social filter, and some double-barreled committee recruiting tactics, it's not all juice and cookies for Justine, Ruben, and Margaret as they struggle to play nice.
What if the only way to end your marriage was to be the perfect husband? Maya wants Nick to be less of a workaholic, to come home earlier, to spend some time with his children. Nick wants a divorce. With his mind made up, Nick is determined to leave quickly and with dignity, but it comes as an unpleasant shock to realise how much it will cost him to walk away. As a stay-at- home mum, Maya is entitled to everything. Nick is resolute, so when an unlikely solution presents itself he gives it everything he's got. If Nick becomes a better husband and father, if he encourages his wife to rediscover herself, the more self-sufficient Maya will become: and the cheaper Nick's pay-out. But as Nick pretends to be a better man he becomes one. He remembers his connection with Maya, their ability to be a couple and not just parents who share a house. Everything seems to be back on track. Until Maya finds out exactly what Nick has been planning.
"It's the difference between surviving life and living life. It's the difference between taking a shower and teaching your monkey butler how to shampoo your hair."  Jenny Lawson – aka The Bloggess – returns with the follow-up to her bestselling memoir Let's Pretend This Never Happened, recounting stories from everyday family life in her inimitably frank, hilarious, bizarre and endearing way. She describes her battles with depression and anxiety and her quest to overcome them by saying yes to even the absurdist opportunities and making the good times gloriously good. For as Jenny says: 'You can't experience pain without also experiencing the baffling and ridiculous moments of being fiercely, unapologetically, intensely and (above all) furiously happy…' It's a philosophy that has – quite literally – saved her life.
  ***********
Thanks for stopping by!