Weekend Cooking, hosted by Beth Fish Reads is a semi-regular post at Book'd Out.
****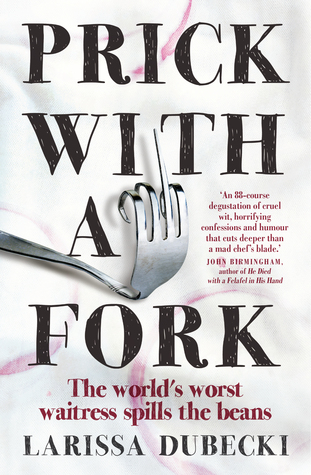 Title: Prick with a Fork
Author: Larissa Dubecki
Published: Allen & Unwin September 2015
Status: Read from September 25 to 26, 2015 — I own a copy
My Thoughts:
Prick With a Fork is a funny, lighthearted expose of the food industry from the point of view of a disenchanted waitress turned restaurant critic.
From almost killing a stripper with a wayward steak knife to staging go slow's to frustrate obnoxious customers, Larissa Dubecki claims she was the world's worst waitress, unashamedly sullen, insolent, disinterested, and often hungover, yet she spent over a decade waitering in everything from cyber cafe's to gastro pubs throughout Melbourne.
In Prick with a Fork, Dubecki details working with psychopathic chefs, hostile customers, drug addled colleagues and bartenders on the take and reveals insider secrets about illicit trysts in coolrooms, cash hidden under registers, and unpleasant uses for carrots. Her anecdotes are hilarious, though often slightly nauseating, you may never be able look your waiter in the eye again.
Salted with confessions and peppered with pathos, Prick with a Fork is a light and entertaining read.
Available to purchase from
Allen & Unwin I
I Booktopia I Amazon AU I  via Booko
and all good bookstores.