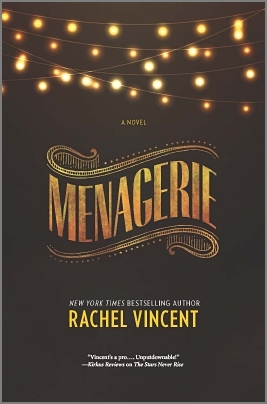 Title: Menagerie { Menagerie #1}
Author: Rachel Vincent
Published: Harlequin MIRA September 2015
Status: Read from September 21 to 22, 2015 — I own a copy   {Courtesy the publisher}
My Thoughts:
A darkly imaginative and captivating tale, Menagerie introduces a new fantasy series from Rachel Vincent for an adult audience.
On her twenty fifth birthday, Delilah Marlow's boyfriend presents her with tickets to Metzger's Menagerie, a travelling carnival, whose attractions include cryptids, creatures of legend and myth kept captive since the horror of The Reaping. Delilah has never been comfortable with society's treatment of cryptids, and she is horrified when she witnesses a keeper abuse a young female werewolf, but she is as stunned as everyone around her when her fury manifests physically.
"But if monsters could look like humans, and humans could look like monsters, how could anyone ever really be sure that the right people stood on the outside of all those cages?"
Vincent presents a stunning alternate reality in Menagerie where supernatural creatures are caged, enslaved and exploited by humans. Afforded no rights cryptids are feared and hated, blamed wholesale for an event known as The Reaping which killed hundreds of thousands of children decades earlier.
Delilah is utterly unaware she is anything but human until the night she plunges black talons into the skull of the abusive keeper, and is utterly terrified when she is arrested and then denied any recourse when the Sheriff sells her to Metzger's Menagerie. Vincent creates a powerful and disturbing portrait of Delilah's disenfranchisement as she is chained and caged, placed at the mercy of sadistic keepers who force her to become a sideshow attraction despite being unable to identify her 'type', alongside the circus's collection of trolls, ogres, mermaids, djinn, were creatures, and a rare minotaur.
Vincent spares little as she describes the conditions under which the cryptids live in Metzger's Menagerie. Abused, tortured, starved and drugged, their experiences are harrowing and for Delilah the dislocation is extreme. As she tries to hold onto her dignity, she displays courage, resilience and determination. Only one keeper shows her any kindness, Gallagher, who comes to believe that Delilah is the rarest of cryptid's, and the only one who can save them all.
Menagerie though is much more than just a thrilling tale of fantasy, it is a story that explores the concepts of humanity, and its capacity for savagery when threatened or fearful, injustice and vengeance. It reflects some of society's worst impulses such as the internment camps, acts of genocide, human trafficking and forcible slavery. This provocative edge to the story may be overlooked by some, but the parallels were clear to me.
With literally extraordinary characters, dazzling world building and a captivating plot, Menagerie is a sensational read. I can't wait for the story to continue.
Available to Purchase via
Harlequin US I AmazonUS I Book Depository I Indiebound
Also by Rachel Vincent at Book'd Out