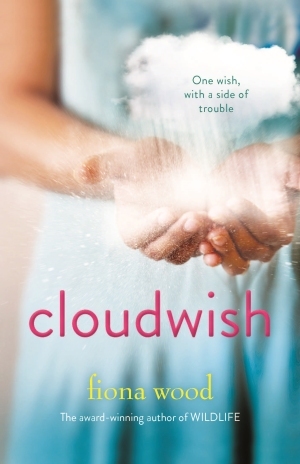 Title: Cloudwish
Author: Fiona Wood
Published: Pan Macmillan AUS September 2015
Status: Read from September 20 to 21, 2015 — I own a copy   {Courtesy the publisher}
My Thoughts:
Cloudwish is a delightful new contemporary young adult novel from Fiona Wood, author of Six Impossible Things and Wildlife.
Asked to choose a prop for a creative writing assignment, Vân Uoc Phan selects a small glass vial. Inside, a slip of paper says wish. Vân Uoc considers the possibilities, she could wish not be the only 'scholarship/poor/smart/Asian' in her privileged private school, or that the government would stop persecuting asylum seekers, but Vân Uoc's most private and fervent wish, is for Billy Gardiner to like her.
Readers familiar with Wildlife might recognise Vân Uoc and Billy for their role in the book as minor characters.
Vân Uoc is the only daughter of Vietnamese refugees, she lives in a housing commission flat, attending the prestigious Crowthorne Grammar on an academic scholarship. She is quiet and studious, her parents expect she will become a doctor or a lawyer, though Vân Uoc dreams of becoming an artist.
Billy Gardiner is Crowthorne Grammar's golden boy, he is smart but takes very little seriously. One of the first eight on the successful school rowing team, the son of wealthy parents, he takes his privilege for granted in a way Vân Uoc never can.
When Billy suddenly takes notice of her, Vân Uoc assumes she is being set up for a joke but as his attention persists, she begins to wonder if a wish really can come true. The ensuing relationship between Vân Uoc and Billy is sweet and believable, deftly handled by the author within the context of the story.
But this is not just a story about a teen romance, throughout the story, Wood sensitively explores the experience of diversity in all its forms with a focus on socioeconomic, racial and cultural difference. Vân Uoc keenly feels the divide between herself and her classmates, she can't afford designer jeans or even a cup of coffee after school, her free time is limited to spending Friday nights watching movies in her neighbours flat, and she has responsibilities they can't imagine. Vân Uoc is also haunted by her parents experiences as refugees. Though she knows few of the details, her mother's annual slide into depression suggests unimaginable horrors.
With references to Jane Eyre, Vân Uoc's idol, and Pretty in Pink, Australian politics and the legitimacy of asylum seekers, mean girls, Chapel Street, and magic, Cloudwish is a wonderfully observed and heartfelt Australian story about identity, belonging, love, and dreams.
"Jane had all the answers. Of course she did. When had she ever let Vân Uoc down? It struck her like a proverbial bolt from the blue that within Jane Eyre's framework of realism – of social commentary on class, on charity schools, on imperious rich relations, on gender equality and the restricted opportunity for women, on love and morality…there was also some mad magic."
Available to purchase from
Pan Macmillan I
I Booktopia I Amazon AU I  via Booko
and all good bookstores.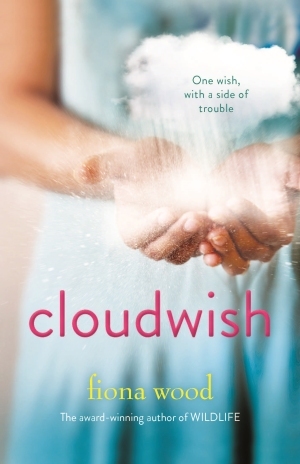 #cloudwishblogtour2015
GIVEAWAY
Courtesy of Pan Macmillan, I have
1 print edition of
Cloudwish by Fiona Wood

to giveaway to one lucky Australian resident.
Leave a comment on this post and then
*Sorry, entry is for Australian residents only*
Entries close October 4th, 2015