The It's Monday! What Are You Reading meme is hosted at Book Journey. I'm delighted that Sheila has found the strength to to revive the meme this week.
Life…
Ughh a week of reviewers block. Is that a thing? I just couldn't seem to string together a coherent sentence. It didn't help that I was so busy last week, and now I'm going to have to try and catch up at the worst possible time, given it's school holidays and all the kids are underfoot.
Wish me luck!
What I Read Last Week
Starcrossed by Carla Caruso
Breakaway by Kat Spears
The Patterson Girls by Rachael Johns
Who Do You Love by Jennifer Weiner
Yes, My Accent is Real by Kunar Nayyar
New Posts
(click the titles to read my reviews)
AWW Feature: Carla Caruso, Starcrossed and Shadow Signs
Review: Starcrossed by Carla Caruso ★★1/2

Review: Breakaway by Kat Spears ★★★★
Review: The Patterson Girls by Rachael Johns ★★★★
Review: Who Do You Love by Jennifer Weiner ★★★1/2
Review: Yes, My Accent is Real by Kunar Nayyar
Stuff on Sundays: Bookshelf Bounty
What I Am Reading Today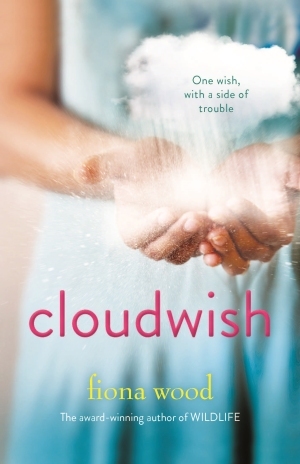 For Vân Uoc Phan, fantasies fall into two categories: nourishing, or pointless. Daydreaming about Billy Gardiner, for example? Pointless. It always left her feeling sick, as though she'd eaten too much sugar. Vân Uoc doesn't believe in fairies, zombies, vampires, Father Christmas – or magic wishes. She believes in keeping a low profile: real life will start when school finishes. But when she attracts the attention of Billy Gardiner, she finds herself in an unwelcome spotlight. Not even Jane Eyre can help her now.
Wishes were not a thing. They were not. Correction. Wishes were a thing. Wishes that came true were sometimes a thing. Wishes that came true because of magic were not a thing! Were they?
 

What I Plan To Read This Week

(click the covers to view at Goodreads)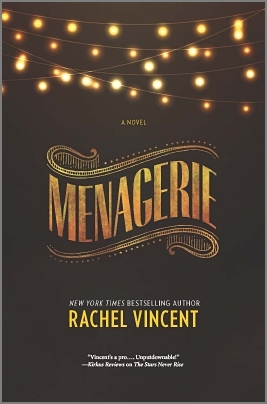 When Delilah Marlow visits a famous traveling carnival, Metzger's Menagerie, she is an ordinary woman in a not-quite-ordinary world. But under the macabre circus black-top, she discovers a fierce, sharp-clawed creature lurking just beneath her human veneer. Captured and put on exhibition, Delilah in her black swan burlesque costume is stripped of her worldly possessions, including her own name, as she's forced to "perform" in town after town.  But there is breathtaking beauty behind the seamy and grotesque reality of the carnival. Gallagher, her handler, is as kind as he is cryptic and strong. The other "attractions"—mermaids, minotaurs, gryphons and kelpies—are strange, yes, but they share a bond forged by the brutal realities of captivity. And as Delilah struggles for her freedom, and for her fellow menagerie, she'll discover a strength and a purpose she never knew existed.  Renowned author Rachel Vincent weaves an intoxicating blend of carnival magic and startling humanity in this intricately woven and powerful tale.
Schoolteacher Natalie has always been a city girl. She has a handsome boyfriend and a family who give her only the best. But she craves her own space, and her own classroom, before settling down into the life she is expected to lead. When Nat takes up a posting at a tiny school in remote Western Australia, it proves quite the culture shock, but she is soon welcomed by the swarm of inquisitive locals, particularly young student Billy and his intriguing single father, Drew.  As Nat's school comes under threat of closure, and Billy's estranged mother turns up out of the blue, Nat finds herself fighting for the township and battling with her heart. Torn between her life in Perth and the new community that needs her, Nat must risk losing it all to find out what she's really made of – and where she truly belongs.
On the eve of the First World War, Fleurette, the only daughter of the wealthy Delacroix perfume dynasty, is being forced to marry a man she loathes, Aimery De Lasset, head of the pre-eminent perfume manufacturer in France. It is only the cathedral bells tolling the rally to the frontlines on her wedding night that save her from sharing his bed. When she receives a letter from Aimery's estranged brother warning against their union, Fleurette is left with the burden of a terrible secret. It is one that has the power to shatter the two families and their perfume empires once and for all.

Despite dire predictions in the late twentieth century that public libraries would not survive the turn of the millennium, those libraries continue to thrive. Two of three Americans frequent a public library at least once a year, and nearly that many are registered borrowers. Although library authorities have argued that the public library functions primarily as a civic institution necessary for maintaining democracy, generations of library patrons tell a different story. In Part of Our Lives, Wayne A. Wiegand delves into the heart of why Americans love their libraries. The book traces the history of the public library, featuring records and testimonies from as early as 1850. Rather than analyzing the words of library founders and managers, Wiegand listens to the voices of everyday patrons who cherished libraries. Drawing on newspaper articles, memoirs, and biographies, Part of Our Lives paints a clear and engaging picture of Americans who value libraries not only as civic institutions, but also as social spaces for promoting and maintaining community. Whether as a public space, a place for accessing information, or a home for reading material that helps patrons make sense of the world around them, the public library has a rich history of meaning for millions of Americans. From colonial times through the recent technological revolution, libraries have continuously adapted to better serve the needs of their communities. Wiegand goes on to demonstrate that, although cultural authorities (including some librarians) have often disparaged reading books considered not "serious" the commonplace reading materials users obtained from public libraries have had a transformative effect for many, including people like Ronald Reagan, Sonia Sotomayor, and Oprah Winfrey. A bold challenge to conventional thinking about the American public library, Part of Our Lives is an insightful look into one of America's most beloved cultural institutions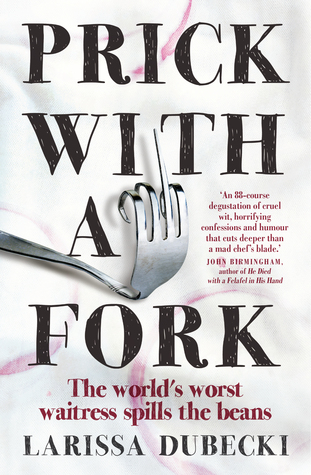 Kitchen Confidential meets He Died With a Felafel in His Hand in this laugh-out-loud hilarious expose of the restaurant industry. A hilarious and horrific dissection of the restaurant industry from the waiter's point of view, Prick with a Fork is a statement rather than an instruction! This gorgeously written treat combines the gritty take-no-prisoners attack of Anthony Bourdain's Kitchen Confidential with the gross confessions and forensic grunge of John Birmingham's He Died With a Felafel in His Hand. Dining out will never be the same again! Therapy for former waiters, revelation to diners, pure reading pleasure for anyone interested in what really happens out the back of the restaurant.
  ***********
Thanks for stopping by!