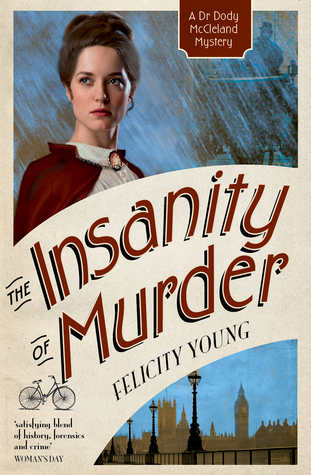 Title: The Insanity of Murder { Dr Dody McCleland #4}
Author: Felicity Young
Published: HarperCollins August 2015
Status: Read from August 06 to 09, 2015 — I own a copy {Courtesy the publisher/netgalley}
My Thoughts:
I look forward to each new installment of Felicity Young's historical mystery series featuring Dr Dody McCleland, autopsy surgeon. The Insanity of Murder is the fourth book in the series which continues to impress me with its rich period detail, strong characterisation and interesting plots.
The Insanity of Murder begins with an explosion set by the suffragette's at London's 'Necropolis Railway'. With a watchman badly injured, Dody is horrified when Florence is arrested for the crime, afraid that a regime of force feeding in prison will destroy her sister. While Dodie and Pike do their best to protect Florence from the worst consequences of her behaviour, it's the witness to the bombing that captures their attention. Initially mistaken for a vagrant, they discover the elderly woman is Lady Mary Heathridge, who has escaped from the ladies 'rest' home where she is confined, in search of a missing friend.
The main plot then involves Dody and Pike's ensuing discrete investigation into The Elysium Rest Home for Gentlewomen where they suspect the attending doctor is performing illegal and possibly experimental treatments on the women entrusted to their care. Florence, benefiting from new laws regarding the incarceration of suffragettes, decides to help by getting herself sent to the home, but instead finds herself in grave danger. The plight of these women, several of whom have simply been discarded by husbands and families, is chilling, treated in horrific ways for their 'hysterical' behaviour.
I did feel the story was a little diluted however. Pike is distracted by his daughter, Violet, who is trying to convince her father to let her study nursing, his secret involvement in shaping a new law, and politics at play in Scotland Yard. Naturally Dodie's main worry is for her sister, concerned by the suffragette movements increasingly violent and dangerous protests, but her relationship with Pike is also on her mind.
Still, the writing is of its usual high standard, and the pace is good. The historical detail is fascinating, of note here is the death of suffragette Emily Wilding Davison at the 1913 Epsom Derby.
As with the previous books in the series, The Insanity of Murder is an interesting and engaging read. And I will be looking forward to the next.
Available to purchase from
HarperCollins AU I I Amazon AU I Amazon US
Google Play I iBooks I Kobo