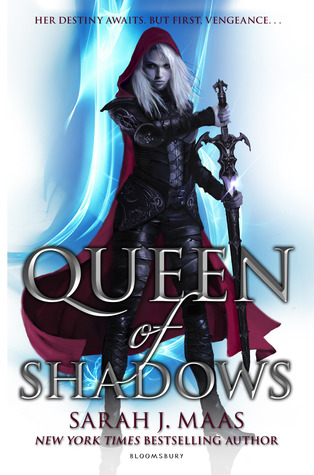 Title: Queen of Shadows {Throne of Glass #4)
Author: Sarah J Maas
Published: Bloomsbury September 2015
Status: Read from September 01 to 03, 2015 — I own a copy   {Courtesy the publisher}
My Thoughts:
"She was fire, and light, and ash, and embers. She was Aelin Fireheart, and she bowed for no one and nothing, save the crown that was hers by blood and survival and triumph."
Queen of Shadows is the fourth book in Sarah J Maas's riveting fantasy adventure series, Throne of Glass. At just over 650 pages, this is an epic installment offering plenty of intrigue, danger, fast paced action and romance.
In Queen of Shadows, our heroine returns to Rifthold, not as the assassin Celaena Sardothien, but as Aelin Galathynius, rightful heir to the throne of Terrasen, determined to put an end to the King and his alliance with the demon Valg. Her first task is to rescue her cousin Aedion from public execution, her second to destroy Arobynn, all the while plotting to free magic, save Dorian from Valg possession and ensure the safety of the people she loves.
In the interest of avoiding spoilers for fans of this gripping series I'm just going to heap general praise on it. The plot is fast paced and action packed with plenty of exciting confrontations that left me breathless. It is also clever, Maas allows Aelin to keep secrets not just from her friends but also from the reader resulting in some startling surprises. The plot twists and turns as Aelin doggedly pursues her goal, and the final confrontation between the Queen and her enemies was nothing short of epic.
Queen of Shadows embraces both old and new allies and enemies. Aelin's loyal circle includes Aedion and fae warrior Rowan, Chaol, despite his emotional turmoil, rebel Nesryn, and courtesan Lysandra. I really enjoyed the shifting dynamics between all of these characters as the novel progressed.
Personally the fan driven controversy regarding Aelin's romantic choices seems extreme to me, perhaps because I'm a mature aged reader I understand more clearly why Aelin and Chaol are no longer a good fit, and though I am not completely convinced Rowan is her soul mate, I do believe he is her ideal partner for the moment.
Though not truly an enemy, Dorian, inhabited by a Valg prince, is a wild card and Aelin struggles to decide how best to deal with him. She has no such hesitation when it comes to Arobynn when his true capacity for deceit is unequivocally revealed.
Aelin also shares the narrative with Manon Blackbeak who was introduced in Heir of Fire. Manon, a ruthless witch, is in Morath readying herself and her kind for battle on the side of the King, but she unexpectedly finds herself questioning orders at the urging of her second Aestrin, a crippled slave girl, Elide, and a young broken woman with an extraordinary ability.
Queen of Shadows is an enthralling read, and I resented having to put it down even briefly to attend to the ordinary demands of existence. It is going to be a longgg wait for the next (possibly final??) book.
Available to purchase from
Bloomsbury I
I Booktopia I Amazon AU I  via Booko
Amazon UK I Amazon US I Book Depository
and all good bookstores.
Read my reviews for the first three books in the series