The It's Monday! What Are You Reading meme is hosted at Book Journey. In Sheila's absence I'm linking this post via Twitter at #IMWAYR
Life…
Book'd Out turned five during the week, thank you to those who stopped by with your best wishes! Don't forget to enter the international giveaway.
I'm so relieved that winter basketball has finished for the season, now I can sleep in on Sunday's again, at least until the summer season starts in 6 weeks!
Excepting this weekend of course, when we celebrate Father's Day in Australia.  We have plans for a family picnic since my daughter has a gymnastic performance one town over on the lake foreshore, we will go and watch her and enjoy some time in the Spring sunshine (hopefully!). I'll be needing the rest since Saturday is the clubs annual 'concert' with midday and evening shows and I'll be spending twelve hours marshaling over 100 excited kids back stage for the eleventh year in a row!
What I Read Last Week
Woman of the Dead by Bernard Aichner
The Secret Years by Barbara Hannay
The Simple Act of Reading by Debra Adelaide
Pretty Girls by Karin Slaughter
$2.00 a Day by Kathryn Edin
New Posts
(click the titles to read my reviews)
Review: We Never Asked for Wings by Vanessa Diffenbaugh  ★★★★

Review: The Secret Years by Barbara Hannay ★★★★
Review: Woman of The Dead by Bernard Aichner ★★★★
Book'd Out is Five! (and a giveaway)
Review: The Simple Act of Reading edited by Debra Adelaide ★★★★
Review: Pretty Girls by Karin Slaughter ★★★

Review: $2.00 a Day by Kathryn Edin ★★★1/2
What I Am Reading Today
X:  The number ten. An unknown quantity. A mistake. A cross. A kiss.
X:  The shortest entry in Webster's Unabridged. Derived from Greek and Latin and commonly found in science, medicine, and religion. The most graphically dramatic letter. Notoriously tricky to pronounce: think xylophone.
X:  The twenty-fourth letter in the English alphabet.
Sue Grafton's X: Perhaps her darkest and most chilling novel, it features a remorseless serial killer who leaves no trace of his crimes. Once again breaking the rules and establishing new paths, Grafton wastes little time identifying this sociopath. The test is whether Kinsey can prove her case against him before she becomes his next victim.
 

What I Plan To Read This Week

(click the covers to view at Goodreads)
The Waiting Room captures the sights, sounds, accents and animosities of a country overflowing with stories.Dina is a family doctor living in the melting-pot city of Haifa, Israel. Born in Australia in a Jewish enclave of Melbourne to Holocaust survivors, Dina left behind a childhood marred by misery and the tragedies of the past to build a new life for herself in the Promised Land. After starting a family of her own, she finds her life falling apart beneath the demands of her eccentric patients, a marriage starting to fray, the ever-present threat of terrorist attack and the ghost of her mother, haunting her with memories that Dina would prefer to leave on the other side of the world. Leah Kaminsky plumbs the depths of her characters' memories, both the sweet and the heart-wrenching, reaching back in a single climactic day through six decades and across three continents to uncover a truth that could save Dina's sanity – and her life.
Jonathan Lott is confused. His wife has left him for a woman and he doesn't like living alone. Is it true that an about-to-be-divorced man in possession of a good fortune is in need of a new wife? Would Penny Collins do, divorced herself, school teacher and frustrated artist? What about beautiful Anna, blown in from who knows where, trailing broken marriages behind her? There's a lot happening at The Landing, where Jonathan has his beach house, and he's about to find out how much love matters.
Susan Johnson's stunning new novel, written with her trademark wit and insight, brilliantly observes what it is to be human and to love: the betrayals, the long and the short alliances, the disappointments and the joys. The Landing celebrates all of it with verve and style.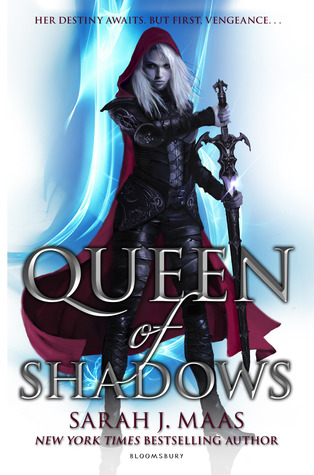 Everyone Celaena Sardothien loves has been taken from her. But she's at last returned to the empire—for vengeance, to rescue her once-glorious kingdom, and to confront the shadows of her past . . . She will fight for her cousin, a warrior prepared to die just to see her again. She will fight for her friend, a young man trapped in an unspeakable prison. And she will fight for her people, enslaved to a brutal king and awaiting their lost queen's triumphant return. Celaena's epic journey has captured the hearts and imaginations of millions across the globe. This fourth volume will hold readers rapt as Celaena's story builds to a passionate, agonizing crescendo that might just shatter her world.
Stephen Dobyns–whom Stephen King has described as "the best of the best"–is back with his newest novel Is Fat Bob Dead Yet?, a comic suspense novel about a small-time con operation, a pair of combative detectives, and the pride, revenge, and deception that guide us all–Richard Russo meets Elmore Leonard. In the seaport city of New London, Connecticut, and newcomer Connor Raposo has just witnessed a gruesome motorcycle accident on Bank Street. At least he thinks it was an accident. But then he sees a familiar man–who else would wear an Elvis pompadour in this day and age?–lurking around the crime scene. Where does Connor know him from? And why does everyone he knows keep showing up dead?
As a prolonged drought takes its toll on their lives, Bec and her husband must battle the bank's attempts to foreclose on their beloved Coolibah Creek in a suspenseful and action-packed new novel from a fresh and authentic voice in rural romance. Bec Roberts and her husband Andy adore each other. They're also passionate about their beloved station, Coolibah Creek, but are despairing as a relentless drought ravages their property. Bec is worried, too, about her best friend and neighbour, Maggie O'Donnell. Married to a difficult, hard-drinking man who's away for long periods, Maggie finds herself increasingly drawn to a stockman who works for the family. When tragedy strikes, Bec is pushed to the very limits of her endurance. How will her family and Coolibah endure the challenges they're facing? Suspenseful and action-packed, Coolibah Creek is about a woman who has to muster all the strength and determination she has in the face of adversity. It is also about the power of love.
  ***********
Congratulations to the winner of Long Bay by Eleanor Limprecht: Michelle C
Thanks for stopping by!