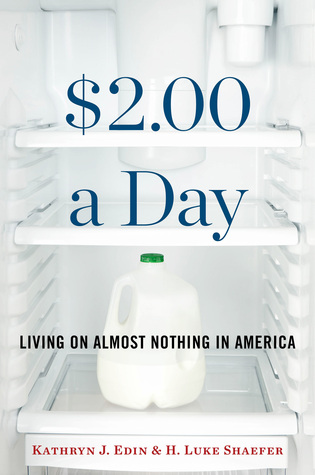 Title: $2.00 A Day: Living on Almost Nothing in America
Author: Kathryn J Edin and Luke Shaeffer
Published: Houghton Mifflin Harcourt September 2015
Status: Read on August 30, 2015 — I own a copy   {Courtesy the publisher/Netgalley}
My Thoughts:
In October 2014, ACOSS released a new report revealing that poverty is growing in Australia with an estimated 2.5 million people or 13.9% of all people living below the internationally accepted poverty line. Of those, 603,000 or 17.7%, are children.
And as politicians whine about the increasing costs of the welfare system (from the suite of their tax payer funded five star hotel room) and the media whips middle class society into a frenzy by highlighting the worst examples of the minority who abuse the system, the Australian government is considering implementing a program similar to America's model of SnAP.
What $2.00 a Day: Living on Almost Nothing in America shows is that the American welfare system, and specifically the reliance on the SnAP program, fails to provide for or protect its most vulnerable citizens. It looks generous on paper but in practice, but it leaves families without access to cash, vital for everyday life. Without cash they are unable to use public transport, pay bills, buy underwear, or school supplies, without having to resort to trading SnAP for half its worth on the dollar, selling blood, collecting cans, or illegal activities, such as prostitution, all for a few dollars.
Statistics show that the number of American families living on $2.00 per person, per day, has skyrocketed to 1.5 million American households, including about 3 million children, and the authors introduce the reader to eight families who are struggling to survive on incomes of $2.00 per person, per day or less.
The causes of such extreme poverty are complicated. 'Get a job' cries the middle classes, but with scarce unskilled work opportunities and exploitative employers, the answer is not that simple. Modonna worked as a cashier in one store for eight years but when her register came up $10 short after a shift she was fired, and even though the store later found the money, she received no apology nor an invitation to return to work. Unable to keep up with her rent she was evicted and she and her teenage daughter were forced into a homeless shelter, and despite applying for hundreds of jobs, Modonna remains unemployed.
And what of the children? Tabitha is one of thirteen children. She grew up with one set of clothes, sharing a mattress with seven of her siblings in a three bedroom apartment. They often went without food especially when their mother found it necessary to trade some of the SnAP she received, at almost half its value, for cash in order to pay the electricity or water bill. In tenth grade a desperate Tabitha agreed to sleep with one of her teachers who offered her food in exchange in for regular sex. In her junior year she was forced to leave home when she intervened in a fight between her mother and her abusive partner and the man issued Tabitha's mother an ultimatum. Now eighteen she is finishing high school and has a place to live thanks to a boarding school scholarship, but she will graduate in a matter of months and though she'd like to go to college, there is no money to do so.
There are no easy solutions to the kind of poverty experienced by Modonna and her daughter, or Tabitha and her family, but its clear the current welfare system is failing. Without cash, many families have no hope of escaping the cycle of poverty, or surviving the experience without deep physical and emotional wounds. The authors argue for sensible reforms that would go some way to alleviating the plight of those living on $2.00 per person, per day.
This is an eyeopening and important book that will challenge your preconceptions of poverty, welfare and the poor. It is much harder to blame or condemn the homeless or unemployed (or dole bludgers in the Australian vernacular) for their circumstances when you understand the challenges they face.
"…the question we have to ask ourselves is, Whose side are we on? can our desire for, and sense of, community induce those of us with resources to come alongside the extremely poor among us in a more supportive, and ultimately more effective, way?"
Available to purchase via
Houghton Mifflin Harcourt I Amazon US I Book Depository I Indiebound