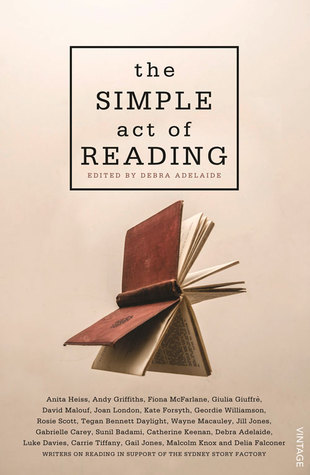 Title: The Simple Act of Reading
Author: Edited by Debra Adelaide
Published: Random House June 2015
Status: Read from August 25 to 27, 2015 — I own a copy   {Courtesy the publisher/Netgalley}
My Thoughts:
"The idea for this book was simple, as simple as the act of reading itself: how compelling it is when authors write about books, other authors or just moments in their reading lives that have been significant for them."
Edited by Debra Adelaide, The Simple Act of Reading is a collection of short personal essays from twenty one of Australia's celebrated writers.
Luke Davies writes of childhood correspondence with Herge, the author of TinTin. Joan London praises The Watch Tower by Elizabeth Harrower, while David Malouf recalls the first time he read Jane Eyre. Catherine Keenan shares the joy of her young daughter cracking the code of the written word, and Anita Heiss writes of discovering her love for reading when studying for her doctorate in her late twenties.
I recognised myself in several of the essays, I was just like Kate Forsyth describes herself, in 'Books are Dangerous';
"When I was a child, I was such a bookworm that I troubled and bewildered even my very bookish parents. I would borrow six books at a time from the local library, and have read them all by the following day. I used to walk home from school reading. I would become so absorbed in the book that I would walk past my turn-off, and some considerable time later look up, finding myself blocks away from home. I'd miss my stop on train journeys. I would not hear my name being called in class. I would read so late at night that I could hear the kookaburras' weird cackle as I reluctantly turned the last pages."
In fact little has changed 🙂
The Simple Act of Reading is an engaging collection that will appeal to book lovers everywhere.
And this, from Sunil Budami in 'In Your Deams' is the perfect retort for the question oft asked of bookworms;
" So, if you can recall the question: if we forget most of what we read, then why do we read? You might as well ask why we dream, or live at all, given how much we forget of our dreams and lives. Yet just as I cannot imagine being alive without dreams, I couldn't dream of living without reading."
All profits from The Simple Act of Reading will be donated to The Sydney Story Factory
Available to purchase from
Random House I
I Booktopia I Amazon AU I  via Booko
and all good bookstores.