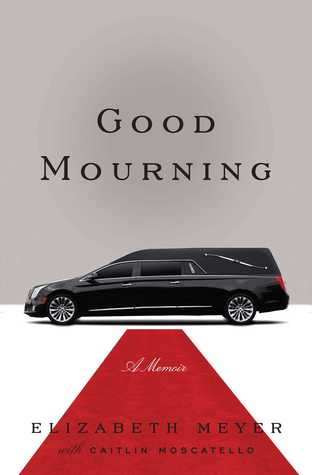 Title: Good Mourning
Author: Elizabeth Meyer and Caitlin Moscatello
Published: Gallery Books August 2015
Status: Read from August 19 to 20, 2015 — I own a copy   {Courtesy the publisher/netgalley}
My Thoughts:
"When I was twenty-one and most of my friends were Daddy-do-you-know-someone?-ing their way into fancy banks and PR firms, I was grieving the loss of my father, who had just died of cancer. That's how I found myself in the lobby of Crawford Funeral Home, one of several premier funeral homes in Manhattan, begging for a job one day."
After finding satisfaction in taking charge of her beloved father's funeral arrangements, young New York socialite Elizabeth Meyer joins the staff at Crawford Funeral Home despite the objections of family and friends. Though hired as a receptionist, Elizabeth's curiosity about all aspects of the business, including the mortuary room, and her ability to relate to Crawford's upscale clientele, soon sees her appointed as the Family Services Coordinator.
Unlike Caitlin Doughty's memoir Smoke Gets in Your Eyes, published earlier this year, Meyer's memoir has no real agenda, though she is sincere in her belief that mourners should have the opportunity to create a meaningful funeral experience that honours their loved one.
Good Mourning has a largely lighthearted tone as Meyer shares her experiences at Crawford. From body fluids leaking all over her Gucci shoes, to missing brains, to making arrangements for dozens of Lamborghini's to line Madison Avenue. She is discrete as she describes the excesses of unnamed celebrity and society funerals, respectful as she tells of families grief, and is matter of fact about the more confronting aspects of the funeral industry.
Eventually tiring of the infighting and corporate ethos plaguing Crawford, Meyer left after a few years, and after further study started her own private consulting firm, helping people to navigate the funeral industry.
Authored with the assistance of freelance writer Caitlin Moscatello, Good Mourning is written in a conversational style. Elizabeth comes across charmingly enthusiastic, and genuinely passionate about her chosen career. Meyer's instinct for dealing with grieving families is remarkably mature, but her youth is apparent in what she shares of personal life. She has a difficult relationship with her mother, doesn't understand the hostility directed at her by her colleagues, and takes her wealth and privilege for granted.
Good Mourning is a quick, interesting and entertaining read, and Elizabeth Meyer shares her story with honesty, humour, and compassion.
Available to purchase via
Simon & Schuster US I Amazon US I Book Depository I Indie Bound