The It's Monday! What Are You Reading meme is hosted at Book Journey. In Sheila's absence I'm linking this post via Twitter at #IMWAYR
Life…
It's been a  rather ordinary week for our family – work, school, gymnastics, cubs, scouts, soccer, basketball. It keeps us busy though. I think I've finally reworked my schedule so I can keep on top of everything, though of course in five weeks when Spring finally arrives and a new school term starts, it will all change again.
What I Read Last Week
The Art of Baking Blind by Sarah Vaughan
The Guilty One by Sophie Littlefield
The Beast's Garden by Kate Forsyth
The Callahan Split by Lisa Heidke
Long Bay by Eleanor Limprecht
New Posts
(click the titles to read my reviews)
Review: The Art of Baking Blind by Sarah Vaughan ★★★

Review: The Guilty One by Sophie Littlefield ★★★1/2
AWW Feature: Fairytales, The Beast's Garden and Kate Forsyth
Review: The Beast's Garden by Kate Forsyth ★★★★1/2
Review: The Callahan Split by Lisa Heidke ★★★
Review & Giveaway:  Long Bay by Eleanor Limprecht ★★★

What I Am Reading Today
#1 New York Times bestselling master of suspense Jonathan Kellerman delivers a riveting standalone thriller featuring the unforgettable Grace Blades. Master psychologist by day, seductive adrenaline junkie by night, Grace has a very dark past—one that's about to bleed into a terrifying present.
 

What I Plan To Read This Week

(click the covers to view at Goodreads)
Even for Private Investigations, the world's top detective agency, it's tough to find a man who doesn't exist . . . Craig Gisto has promised Eliza Moss that his elite team at Private Sydney will investigate the disappearance of her father. After all, as CEO of a high-profile research company, Eric Moss shouldn't be difficult to find. Except it's not just the man who's gone missing. Despite the most advanced technology at their disposal, they find every trace of him has vanished too. And they aren't the only ones on the hunt. Powerful figures want Moss to stay 'lost', while others just as ruthlessly want him found. On top of that, a routine background check has become a frantic race to find a stolen baby and catch a brutal killer – a killer Private may well have sent straight to the victim's door . . .
IN the smoky haze of a small town's cane harvesting season, May grew up as the silent bearer of her father's vicious beatings. But four schoolmates save her with the simple act of their friendship.  Now in their thirties and busy with their own lives, the four friends are unaware how important they still are to May: Tate, a ballsy newspaper subeditor is struggling with her new role as mother; Alex, a bohemian soul has let his anxiety get in the way of his future happiness; Leah, the "boy mad" gal is one French backpacker away from her next heartbreak; and Benny, a die-hard romantic is about to give up his dreams and surrender the fantasy of being with the one girl he's ever loved… Leah. But it's May that holds their friendship together and she is up to something that will change their lives forever.  A harrowing, heart-wrenching read for anyone whose high-school friends became their family.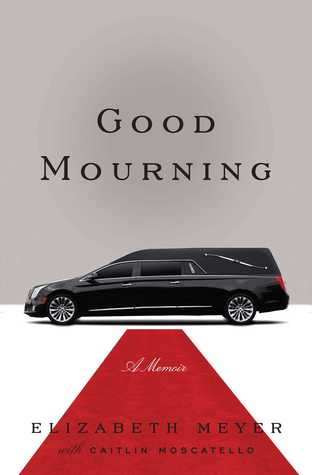 In this funny, insightful memoir, a young socialite risks social suicide when she takes a job at a legendary funeral chapel on New York Citys Upper East Side.Good Mourning offers a behind-the-scenes look at one of the most famous funeral homes in the country where not even big money can protect you from the universal experience of grieving.
It's Gossip Girl meets Six Feet Under, told from the unique perspective of a fashionista turned funeral planner.

Underemployed and directionless, Ryan Berg took a job in a group home for disowned and homeless LGBTQ (lesbian, gay, bisexual, transgender and questioning) teenagers. His job was to help these teens discover their self worth, get them back on their feet, earn high school degrees, and find jobs. But he had no idea how difficult it would be, and the complexities that were involved with coaxing them away from dangerous sex work and cycles of drug and alcohol abuse, and helping them heal from years of abandonment and abuse. In No House to Call My Home, Ryan Berg tells profoundly moving, intimate, and raw stories from the frontlines of LGBTQ homelessness and foster care. In the United States, 43% of homeless youth were forced out by their parents because of their sexual orientation or gender identity. Berg faced young people who have battled extreme poverty, experienced unbalanced opportunities, structural racism, and homophobia. He found himself ill-equipped to help, in part because they are working within a system that paints in broad strokes, focused on warehousing young people, rather than helping them build healthy relationships with adults that could lead to a successful life once they age out of foster care. By digging deep and asking the hard questions, and by haltingly opening himself up to his charges, Berg gained their trust. Focusing on a handful of memorable characters and their entourage, he illustrates the key issues and recurring patterns in the suffering, psychology and recovery of these neglected teens. No House to Call My Home will provoke readers into thinking in new ways about how we define privilege, identity, love and family. Because beyond the tears and abuse, the bluster and bravado, what emerges here is a love song to that irrepressible life force of youth: hope.
For fourteen years, Letty Espinosa has worked three jobs around San Francisco to make ends meet while her mother raised her children—Alex, now fifteen, and Luna, six—in their tiny apartment on a forgotten spit of wetlands near the bay. But now Letty's parents are returning to Mexico, and Letty must step up and become a mother for the first time in her life. Navigating this new terrain is challenging for Letty, especially as Luna desperately misses her grandparents and Alex, who is falling in love with a classmate, is unwilling to give his mother a chance. Letty comes up with a plan to help the family escape the dangerous neighborhood and heartbreaking injustice that have marked their lives, but one wrong move could jeopardize everything she's worked for and her family's fragile hopes for the future. Vanessa Diffenbaugh blends gorgeous prose with compelling themes of motherhood, undocumented immigration, and the American Dream in a powerful and prescient story about family.
  ***********
Thanks for stopping by!