The It's Monday! What Are You Reading meme is hosted at Book Journey. In Sheila's absence I'm linking this post via Twitter at #IMWAYR
Life…
After a concerted effort, and more than a few late nights, I'm almost caught up! I still have two reviews to write because I didn't have the time I expected over the weekend due to family commitments but I'm hoping to be caught up by this evening.
It's a little past the beginning of the month but here is my challenge update
The Eclectic Reader Challenge 8/12
Australian Women Writer's Challenge 49/50
Around the World in 12 Books Challenge 6/12
What's In A Name? Challenge 6/6 – Completed
What I Read Last Week
Kingdom of the Strong by Tony Cavanaugh
How To Be a Grown-Up by Emma McLaughlin and Nicola Kraus
My Very Best Friend by Cathy Lamb
The Veil by Chloe Neill
Pretty Baby by Mary Kubica
Six Degrees by Honey Brown
The Hiding Place by John Burley
The Insanity of Murder by Felicity Young
New Posts
(click the titles to read my reviews)
Review: Kingdom Of the Strong by Tony Cavanaugh ★★★★1/2

Review: My Very Best Friend by Cathy Lamb ★★★★1/2
Review: How To Be a Grown-Up by Emma McLaughlin and Nicola Kraus ★★
Review: The Veil by Chloe Neill ★★★
Review: Six Degrees by Honey Brown ★★★★

Review: Pretty Baby by Mary Kubica ★★★★
Review: The Insanity of Murder by Felicity Young ★★★★
Review: The Hiding Place by John Burley ★★★
Review: What My Daughters Taught Me by Joseph Wakim
Weekend Cooking: The Messy Baker by Charmain Christie
What I Am Reading Today
There are many reasons to bake: to feed; to create; to impress; to nourish; to define ourselves; and, sometimes, it has to be said, to perfect. But often we bake to fill a hunger that would be better filled by a simple gesture from a dear one. We bake to love and be loved.
In 1966, Kathleen Eaden, cookery writer and wife of a supermarket magnate, published The Art of Baking, her guide to nurturing a family by creating the most exquisite pastries, biscuits and cakes. Now, five amateur bakers are competing to become the New Mrs Eaden. There's Jenny, facing an empty nest now her family has flown; Claire, who has sacrificed her dreams for her daughter; Mike, trying to parent his two kids after his wife's death; Vicki, who has dropped everything to be at home with her baby boy; and Karen, perfect Karen, who knows what it's like to have nothing and is determined her façade shouldn't slip. As unlikely alliances are forged and secrets rise to the surface, making the choicest choux bun seems the least of the contestants' problems. For they will learn – as Mrs Eaden did before them – that while perfection is possible in the kitchen, it's very much harder in life.
 

What I Plan To Read This Week

(click the covers to view at Goodreads)
 A man stands on the Golden Gate Bridge, poised to jump…if a woman on the other end of the phone tells him to. Maris's safe suburban world was shattered the day her daughter was found murdered, presumably at the hands of the young woman's boyfriend. Her marriage crumbling, her routine shattered, Maris walks away from her pampered life as a Bay Area mom the day she receives a call from Ron, father of her daughter's killer. Wracked with guilt over his son's actions (and his own possible contribution to them), he asks Maris a single question: should he jump?
With a man's life in her hands, Maris must decide, perhaps for the first time, what she truly wants. Retribution? Forgiveness? Or something more? Having lost everything, she's finally free to recreate herself without the confining labels of "wife," "mother," or "mourner." But will this shocking offer free her, or destroy her?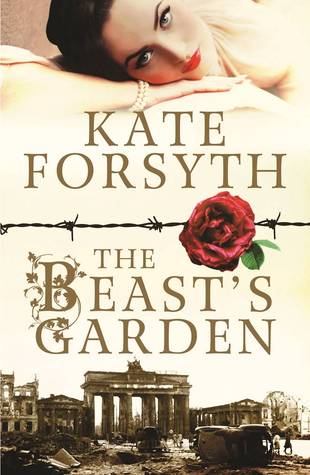 The Grimm Brothers published a beautiful version of the Beauty & the Beast tale called 'The Singing, Springing Lark' in 1819. It combines the well-known story of a daughter who marries a beast in order to save her father with another key fairy tale motif, the search for the lost bridegroom. In 'The Singing, Springing Lark,' the daughter grows to love her beast but unwittingly betrays him and he is turned into a dove. She follows the trail of blood and white feathers he leaves behind him for seven years, and, when she loses the trail, seeks help from the sun, the moon, and the four winds. Eventually she battles an evil enchantress and saves her husband, breaking the enchantment and turning him back into a man. Kate Forsyth retells this German fairy tale as an historical novel set in Germany during the Nazi regime. A young woman marries a Nazi officer in order to save her father, but hates and fears her new husband. Gradually she comes to realise that he is a good man at heart, and part of an underground resistance movement in Berlin called the Red Orchestra. However, her realisation comes too late. She has unwittingly betrayed him, and must find some way to rescue him and smuggle him out of the country before he is killed. The Red Orchestra was a real-life organisation in Berlin, made up of artists, writers, diplomats and journalists, who passed on intelligence to the American embassy, distributed leaflets encouraging opposition to Hitler, and helped people in danger from the Nazis to escape the country. They were betrayed in 1942, and many of their number were executed. The Beast's Garden is a compelling and beautiful love story, filled with drama and intrigue and heartbreak, taking place between 1938 and 1943, in Berlin, Germany.
The Callahan Split: No one knows you better than your sister. In tennis, as in life, nothing ever goes truly to plan. Samantha and Annie Callahan are successful doubles champions — the toast of the Olympics, Wimbledon, and Flushing Meadow.  But their winning partnership spirals out of control when Annie's new boyfriend announces their engagement at the Australian Open in Melbourne. Bear, the sisters' coach, guides Annie as much as she'll allow. But when she insists on dropping Samantha in favour of a singles career, her game and rankings plummet. Samantha is left floundering. Disillusioned, her only sweet spot is the growing passion between her and Bear.  Amidst rising anger and betrayal, Samantha completely changes both their destinies when she does the unthinkable after a devastating Wimbledon loss. The sisters are driven to create new lives by confronting the past and taking control of the present.  But can Samantha and Annie both win?
In 1909 Rebecca Sinclair was sent to Long Bay Women's Reformatory after she was convicted of manslaughter. A mother-of-three had died at her house after a botched abortion. Rebecca was sentenced to three years hard labour, but less than six months into her prison term she gave birth to a child, a girl, who she kept with her in prison.

  ***********
Thanks for stopping by!