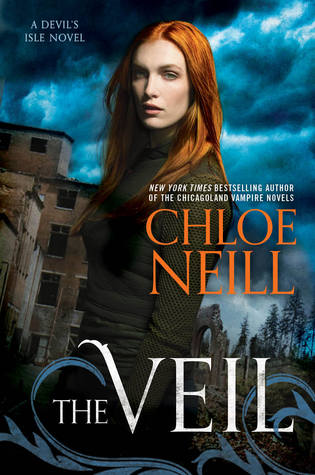 Title: The Veil {Devil's Isle #1}
Author: Chloe Neill
Published: NAL August 2015
Status: Read from August 02 to 03, 2015 — I own a copy   {Courtesy the publisher/Netgalley}
My Thoughts:
I have always intended to read Chloe Neill's popular Chicagoland Vampires series but never found the time, so I leapt at the chance to read The Veil, the first book her new Devil's Isle series.
It has been seven years since the Veil between New Orleans and the supernatural world was torn open permitting the egress of paranormals determined to enslave or wipe out humanity. War raged for a year, leaving thousands dead and the land scarred before the Veil was closed. Magic was banned and the Para's who survived incarcerated in a neighborhood adjoining The French Quarter, nicknamed Devil's Isle.
Claire Connolly owns and runs an antique and supply store, inherited from her late father, at was what 'ground zero'. She refuses to abandon the family store and leave New Orleans even though she risks everything to stay, for after the Veil was reinstated, Claire discovered she was a 'sensitive', a human with the ability to wield magic, and discovery would mean 'containment'.
But when Claire witnesses a woman being attacked by two wraiths (sensitives that have been overwhelmed by their magic) she intervenes and to save herself must use her magic. Certain she will be arrested and imprisoned, assistance comes from an unexpected source, bounty hunter Liam Quinn, who not only helps destroy the evidence of her actions, but also finds her a mentor to teach her to harness her magic.
Walking a fine line between remaining hidden and discovery, everything changes when Claire and Liam discover a dangerous plot to reopen the Veil.
Though New Orleans isn't an unique setting, Neil's worldbuilding is solid. The society has dystopian elements what with almost martial law and street level magic monitoring, and there also an apocalyptic feel given the scorched earth, ruined buildings and communication issues.
There is quite a lot of information to digest in The Veil, including the history of the war, the current status of New Orleans society, the make up of Para's, and the motives of the Beyond. I felt Neil integrated the details well for most part, maintaining a good pace and advancing the plot.
The characters are likeable, Claire is stubborn, resourceful and she has a close knit group of friends that are her substitute family. Liam is essentially a loner, especially since losing his sister. As a bounty hunter he can move quite freely between New Orleans and Devil's Isle where his grandmother is and he has, if not friends then sources, such as Moses, a computer hacker with horns. The attraction between Claire and Liam is immediate and inevitable, and a strong element of the plot.
Though I'm not irreversibly hooked, I did enjoy The Veil. It's a quick and engaging read and I will most likely pick up the next.
Available to purchase from
Penguin I Amazon US I BookDepository I IndieBound