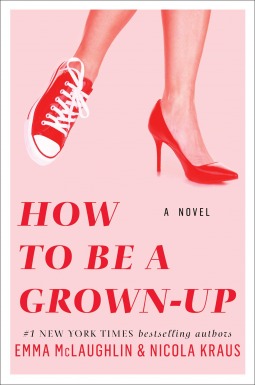 Title: How To Be a Grown-Up
Author: Emma McLaughlin and Nicola Kraus
Published: Atria July 2015
Status: Read from July 30 to August 01, 2015 — I own a copy {Courtesy the publisher/Netgalley}
My Thoughts:
Rory McGovern is a part time freelance stylist, who lives in New York with her actor husband and two young children, but with her husband's star fading and residuals dwindling, Rory is forced to find full time work. Just as she lands a position with a start up webzine run by Millennials, her husband announces he needs some space, and Rory is suddenly the only grown-up at work and home.
Rory often made me shake my head, both in empathy and disbelief. I could relate to the chaos of parenting, less so to the doormat aspects of her personality. Sadly most of the other characters were little more than stereotypes, from Rory's man child husband, and loopy mother in law, to bitchy colleague, and the hunky man about town love interest. I did like Claire though, and Josh of course, as I was meant to.
Rory's experiences in the workplace are highly exaggerated, or at least I hope so. I certainly wouldn't stand for Taylor's snotty attitude, life is too short and I'm far too old (just a year older that Rory) to put up with that sort of crap. The highstrung, self absorbed Millennial staff are ripe targets for mocking however and McLaughlin and Kraus delight in poking fun at them, as well as the inane 'jargon' favoured by youth that actually have nothing to say.
How To Be a Grown-Up was entertaining, but only mildly so. A quick read that demands little on a lazy summer's afternoon.
Available to Purchase From
Simon & Schuster I AmazonUS I I Indiebound