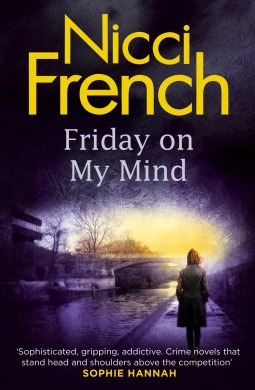 Title: Friday On My Mind {Frieda Klein #5}
Author: Nicci French
Published: Michael Joseph: Penguin July 2015
Status: Read on July 11, 2015 — I own a copy   {Courtesy the publisher/netgalley}
My Thoughts:
I launched into Friday On My Mind, book five of the Freida Klein series by Nicci French, directly after finishing Thursday's Children.
Fast paced and tense this is another page turning installment of the series. In Friday On My Mind, Frieda is accused of murder when the body of her ex lover, Sandy is found floating in the Thames, his throat slit. While the police focus their investigation on Frieda, she immediately suspects her obsessive stalker, Dean Reeve, is responsible and unable to convince the police of her innocence, goes on the run, determined to expose the killer and clear her name.
Frieda is of course expecting her search for evidence will lead her to prove Dean Reeve is alive and culpable, but as she delves into Sandy's recent past, she begins to wonder if someone else could be responsible. In her methodical and fearless way Frieda insinuates into the lives of those closest to Sandy, doggedly hunting his killer all while trying to keep a low profile but as the mystery unfolds a shocking twist proves the murderer is closer than she thinks. Even though Frieda manages to stay one step ahead of the police, a reckoning with the killer has consequences for all of them, both deadly and unexpected.
"'That's part of Freida's problem. She doesn't want to get off. She wants the truth.'"
Though Frieda is determined to protect her loyal friends from the fall out of the case, they rally to support her, even when it puts them at risk of prosecution. Karlsson in particular faces trouble when he defends Freida against the vindictive police commissioner and his pet psychiatrist. Josef shrugs off threats of deportation, doing everything he can to aid Frieda's fight, and even the emotionally fragile Sasha doesn't hesitate to offer her refuge.
"'I just follow where the evidence leads me, and in this case the evidence suggests that where Frieda Klein goes a trail of chaos follows. What her precise role in this happens to be has always been difficult to pin down. As you will probably discover, Frieda Klein also has some strange associates. How these things happen, I don't pretend to know, but they happen, and they continue to happen'"
I'm looking forward to learning what happens next.
Available to purchase from
Penguin AU I
I Booktopia I Amazon AU I  via Booko
 Amazon UK I Amazon US I BookDepository
and all good bookstores.
Also Available