The It's Monday! What Are You Reading meme is hosted at Book Journey. In Sheila's absence I'm linking this post via Twitter at #IMWAYR
Life…
I should know better than to make too many plans during the school holidays, finding time for myself (and by extension this blog) is near impossible in the face of the needs and wants of four children. However temporary relief is in sight, my oldest daughter leaves for Europe tomorrow to compete at the World Gymnaestrada, and will be gone for three weeks, while my parents are taking the youngest three for a couple of days, planning to take them to the zoo. Of course the danger is I will be tempted to soak up the peace and quiet by doing nothing instead of everything I should while I have the chance!
It's the beginning of the month so time to check in with my challenge progress.
The Eclectic Reader Challenge 8/12
Australian Women Writer's Challenge 45/50
Around the World in 12 Books Challenge 6/12
What's In A Name? Challenge 6/6 – Completed
What I Read Last Week
The Book of Speculation by Erika Swyler
The Other Side of the World by Stephanie Bishop
Hush, Little Bird by Nicole Trope
New Posts
(click the titles to read my reviews)
Review: The Book of Speculation by Erika Swyler ★★★★

Review: Hush Little Bird by Nicole Trope ★★★★1/2
Review: The Other Side of the World by Stephanie Bishop ★★★
***  AWW Blog: June 2015 General Fiction **
What I Am Reading Today
From a distance, Felix Fitzwilliam, the son of an old English family, is a good husband and father. But, obsessed with order and routine, he's a prisoner to perfection. Disengaged from the emotional life of his North Carolina family, Felix has let his wife, Ella, deal with their special-needs son by herself. A talented jewelry designer turned full-time mother, Ella is the family rock…until her heart attack shatters their carefully structured existence. Now Harry, a gifted teen grappling with the chaos of Tourette's, confronts a world outside his parents' control, one that tests his desire for independence. As Harry searches for his future, and Ella adapts to the limits of her failing health, Felix struggles with his past and present roles. To prevent the family from being ripped apart, they must each bend with the inevitability of change and reinforce the ties that bind.
 

What I Plan To Read This Week

(click the covers to view at Goodreads)
Lou Samuels is going home for the first time in twenty years. To the mother she can never forgive, the boy she can never forget, and a rural town that needs a saviour. Louise Samuels hasn't been home to Stone Mountain since graduation night, twenty years ago. And she never, ever thinks about all she lost that night. So when her best friend convinces her to go back to their drought-stricken home for their school reunion they strike a deal.  One hour: get in, shake your booty, get out. Lou knows all about deals – she manages acquisitions and mergers at the biggest law firm in Sydney. But the deal gets shelved when The Boy Least Likely to Succeed, Gage Westin, brings up long-buried memories, and her estranged mother calls with an SOS. Things get even more complicated when Lou agrees to help the local council but ends up working with the coal seam gas company Gage is fighting for control of his property.  When Lou discovers her mother is dying, she starts to wonder if it's time to face the ghosts of her past and make peace with her home.  But then things heat up with Gage, the gas company and the council, and Lou is forced to make a deal with the devil to save them all. She's just not sure if Gage Westin, and Stone Mountain, will ever forgive her for it.
Three confessions. Two liars. One killer. Three friends have had their lives ripped apart. Their pasts haunt them. They are consumed by guilt. And they don't trust anyone. Not even themselves. But in their small, isolated, island community, trust is the only way to survive. Now a child has gone missing. And no one knows who to believe…
'Trivia is a serious business, not a social occasion' Kevin Dwyer, the 'trivia man' Dubbed 'brainbox' by his peers and 'weirdo' by his sister, Kevin Dwyer is a middle-aged forensic accountant who has never had a real friend, other than his eight-year-old nephew Patrick. When Kevin joins the Clifton Heights Sports Club trivia competition as a one-man team, and convincingly wins the first round, he is headhunted by the other contestants. But Kevin would prefer to be on his own. That is, until he meets Maggie Taylor . . . Maggie is a Latin teacher and movie buff, who's good at her job but unlucky in love. In fact, she's still besotted with the man who dumped her years ago. Nagged by her friend Carole about getting out and meeting people, Maggie reluctantly joins the trivia team founded by Carole's husband, Edward.  Over a season of trivia nights, Kevin, Maggie and her team will experience arguments and crises, friendships and romances, heartbreaks and new beginnings. And maybe, just maybe, Kevin will find his happy ever after . .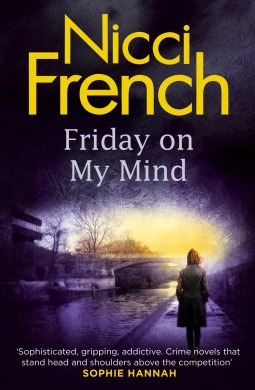 When a bloated corpse is found floating in the River Thames the police can at least sure that identifying the victim will be straightforward. Around the dead man's wrist is a hospital band. On it are the words Dr F. Klein. But psychotherapist Frieda Klein is very much alive. And, after evidence linking her to the murder is discovered, she becomes the prime suspect. Unable to convince the police of her innocence, Frieda is forced to make a bold decision in order to piece together the terrible truth before it's too late either for her or for those she loves. Rich in intrigue, intensity and atmosphere, Friday on My Mind is classic Nicci French – a dark, gripping and sophisticated masterclass in psychological suspense in which nothing is quite what it seems . . .
  ***********
Thanks for stopping by!