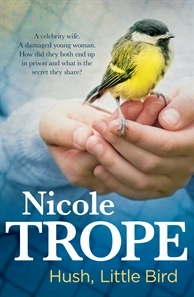 Title: Hush, Little Bird
Author: Nicole Trope
Published: Allen & Unwin June 2015
Status: Read from July 02 to 05, 2015 — I own a copy   {Courtesy the publisher}
My Thoughts:
Nicole Trope's fourth novel, Hush, Little Bird is a thought provoking and heartbreaking story.
Hush, Little Bird is told from the alternative first person perspectives of two very different women, both serving sentences in a minimum security prison, linked by the actions of one man, Simon, a former television celebrity, Birdy's childhood abuser and Rose's late husband.
It is a harrowing tale that details the suffering of a young, vulnerable girl at the hands of her abuser and the lasting consequences of his actions; and the implosion of a dutiful wife's life when her husband's shocking secrets are revealed. Trope gives each woman, both victims, a voice that ultimately shatters the silence
they have taken refuge in to protect themselves.
A story of innocence betrayed, regret, forgiveness and revenge, Hush, Little Bird is told with keen insight and compassion for the victims of abusers. Though this may be a confronting read for some, it is a story that needs to be told.
" I do not want them silenced. I want them to know that they have been heard."
Available to purchase from
Allen & Unwin I
I Booktopia I Amazon AU I  via Booko
and all good bookstores.
Also by Nicole Trope (click cover to read my reviews)