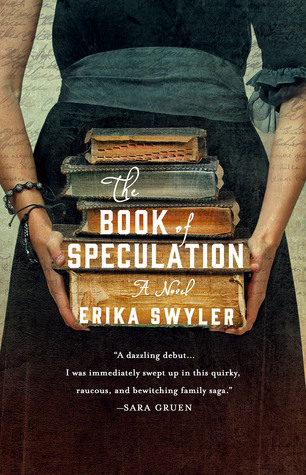 Title: The Book of Speculation
Author: Erika Swyler
Published: St Martins Press June 2015
Status: Read from June 27 to July 01, 2015 — I own a copy   {Courtesy the publisher/netgalley}
My Thoughts:
In Erika Swyler's gorgeous debut novel, The Book of Speculation, Simon Watson receives an old ledger that once belonged to a traveling carnival in the mail, along with a note mentioning a connection to his late mother's family. Struggling with his recent redundancy, the inevitable crumbling of his family home into the sea, and the return of his sister, Simon develops an obsession with the book which reveals a troubling history. For generations, the women of his family, all with a talent for holding their breath, including his mother, have drowned on the same date.
Dual narratives reveal Simon's growing concern for his fragile sister as July 24th approaches, and the truth of the tragic curse that has haunted their family since the early 1800's beginning with Evangeline, 'The Atlantis Mermaid'. Similar themes are reflected in both tales – lust, guilt, love, betrayal, loss, and magic, and tangible connections are drawn with a tattered deck of tarot cards and the appearance of horseshoe crabs.
"At the corner of a page, just above a quickly jotted note about oppressive heat and fog, is a delicate brown illustration of a horseshoe crab. I shut the book and leave the house as quickly as my ankle allows. I need to get into the water, to clear my head….On the sand, crabs scramble around my feet and over each other. The tide has come up since the afternoon, hiding the thousands more horseshoes that lurk beneath."
I loved reading about Peabody's spectacular traveling carnival. The characters of The Wild Boy, the Seer, the Mermaid and Peabody himself are vividly drawn, their dark secrets are haunting and tragic.
"Heralded by a glorious voice, a troupe of traveling entertainers arrived. A mismatched collection of jugglers, acrobats, fortune-tellers, contortionists, and animals, the band was presided over by Hermelius H. Peabody, self-proclaimed visionary in entertainment and education, who thought the performers and animals (a counting pig deemed learned, a horse of miniature proportions, and a spitting llama) were instruments for improving minds and fattening his purse."
The pace of the novel is measured, reflecting the melancholic, often close, atmosphere of the novel. The tension builds slowly in both timelines, as the truth of the curse is unraveled. The prose is often beautiful and enhanced by the illustrations that accompany it.
The Book of Speculation an enchanting tale.
"She knows that her name will find its way into his speculations. So will his. Because there are things you do for people you've known your whole life. You let them save you, you put them in your books, and you let each other begin again, clean."
Available to purchase from
St Martins I Amazon US I Book Depository I Indie Bound