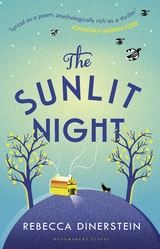 Title: The Sunlit Night
Author: Rebecca Dinerstein
Published: Bloomsbury June 2015
Status: Read from June 13 to 14, 2015 — I own a copy   {Courtesy the publisher}
My Thoughts:
The Sunlit Night is the story of Frances and Yasha whose paths cross far from home 'at the top of the world'. Frances is completing an art internship while Yasha is in Lofoten to fulfill his father's dying wish. It is a story of family, grief, growing up and belonging.
I found Yasha to be a more likeable character than Frances, perhaps because his woes were less superficial than hers. His story was more interesting and developed than hers, and I didn't feel I learnt much about Frances at all. Unfortunately I wasn't convinced by Yasha and Frances's romantic connection either, though they had reason to form a friendship, I didn't think there was any chemistry between them.
What I did really like was the novel's unique setting. The Sunlit Night is set in Lofoten, an archipelago of six tiny islands in the Norwegian Sea, ninety-five miles north of the Arctic Circle. During the later spring and summer months, in which most of this tale takes place, the sun never dips below the horizon.
"These hours were characterized by a wildness of colors, the combined power of a sunset and sunrise. It was easy to watch the horizon for hours straight, the sun in perpetual motion, the sky turning orange and cranberry until at three it returned to blue, and I felt ready for bed."
I enjoyed Dinerstein's descriptions of the archipelago, though mere words barely do the beauty of this place justice (*google for photos*).
"The world was perpetually visible, so I looked at it. Conditioned by hours in the Yellow Room, I saw the landscape in colorblock. The midnight sun came in shades of pink. The fjords rushed up onto white-sanded beaches, and the sand made the water Bermuda-green. The house were always red. They appeared in clusters, villages, wherever the land lay flat. Mountains rose steeply behind each village-menaces and guardians. Each red house was a lighthouse, marking the boundary between one terrain and another, preventing crashes, somehow providing solace."
The Sunlit Night is not without its charms, there is humour, genuine emotion, and some lovely prose, but the plot is weak and the pace uneven. My attention wavered during the last third or so of the book, much of which didn't seem to quite make sense and felt rushed.
In the end, I would rate it as an okay read however others may be more appreciative.
The Sunlit Night is available to purchase from
Bloomsbury I
I Booktopia I Amazon AU I  via Booko
and all good bookstores.