The Its Monday! What Are You Reading meme is hosted at Book Journey. In Sheila's  absence I'm linking this post via Twitter at #IMWAYR, and the Sunday Post hosted by Kimba the Caffeinated Book Reviewer.
Life…
It has been a pretty good week,  I had a wonderful time meeting authors Jenn J McLeod, Karen M Davis and Tricia Stringer on Wednesday evening (you can read about it HERE) and I've enjoyed a mostly relaxing long weekend at home with my family.
It's the beginning of the month so time to check in with my challenge progress.
The Eclectic Reader Challenge 8/12
Australian Women Writer's Challenge 40 /50
Around the World in 12 Books Challenge 4/12
What's In A Name? Challenge 6/6 – Completed
What I Read Last Week
Limbo by Amy Andrews
Leap by Myfanwy Jones
In the Unlikely Event by Judy Blume
If You're Not the One by Jemma Forte
And Then Came Paulette by Barbara Constantine
New Posts
(click the titles to read my reviews)
Review: Limbo by Amy Andrews ★★★★
Review: Leap by Myfanwy Jones ★★★★
Review: In the Unlikely Event by Judy Blume ★★★★
Review:  If You're Not the One by Jemma Forte ★★★
Review:  And Then Came Paulette by Barbara Constantine ★★1/2
Stuff on Sundays: Australian Voices in Print Tour
What I Am Reading Today
Rebecca Wilding, an archaeology professor, traces the past for a living. But suddenly, truth and certainty is turning against her. Rebecca is accused of serious fraud, and worse, she suspects – she knows – that her husband, Stephen, is having an affair. Desperate to find answers, Rebecca leaves with Stephen for Greece, Italy and Paris, where she can uncover the conspiracy against her, and hopefully win Stephen back to her side, where he belongs. There's too much at stake – her love, her work, her family. But on the idyllic Amalfi Coast, Stephen goes swimming and doesn't come back. In a swirling daze of panic and fear, Rebecca is dealt with fresh allegations. And with time against her, she must uncover the dark secrets that stand between her and Stephen, and the deceit that has chased her halfway around the world.
 

What I Plan To Read This Week

(click the covers to view at Goodreads)
From New York Times bestselling author Terry Brooks—the second stand-alone Shannara novel in the Defenders of Shannara series, following The High Druid's Blade, easily accessible to new readers. Paxon Leah has joined the Druid Order as a paladin, tasked with protecting the Druids with the aid of his magical sword. But Paxon's toughest assignment will come when he must track down a young musician with newly-manifested magic before a rival sorcerer can corrupt the boy.
In the early hours of a summer morning, a young woman steps into the path of an oncoming bus. A tragic accident? Or suicide? At the center of this puzzle is Adrian Wolfe, a successful architect and grief-stricken widower, who, a year after his third wife's death, begins to investigate the cause. As Adrian looks back on their brief but seemingly happy marriage, disturbing secrets begin to surface. The divorces from his two previous wives had been amicable, or so it seemed; his children, all five of them, were resilient as ever, or so he thought. But something, or someone, must have pushed Maya over the edge… With psychological nuance that gets into the heart of its characters, The Third Wife is a gripping story about a man seeking the truth behind his seemingly perfect marriage and the broken pieces left behind.
Lou Samuels is going home for the first time in twenty years. To the mother she can never forgive, the boy she can never forget, and a rural town that needs a saviour. Louise Samuels hasn't been home to Stone Mountain since graduation night, twenty years ago. And she never, ever thinks about all she lost that night. So when her best friend convinces her to go back to their drought-stricken home for their school reunion they strike a deal.  One hour: get in, shake your booty, get out. Lou knows all about deals – she manages acquisitions and mergers at the biggest law firm in Sydney. But the deal gets shelved when The Boy Least Likely to Succeed, Gage Westin, brings up long-buried memories, and her estranged mother calls with an SOS. Things get even more complicated when Lou agrees to help the local council but ends up working with the coal seam gas company Gage is fighting for control of his property.  When Lou discovers her mother is dying, she starts to wonder if it's time to face the ghosts of her past and make peace with her home.  But then things heat up with Gage, the gas company and the council, and Lou is forced to make a deal with the devil to save them all. She's just not sure if Gage Westin, and Stone Mountain, will ever forgive her for it.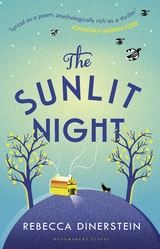 In the beautiful, barren landscape of the Far North, under the ever-present midnight sun, Frances and Yasha are surprised to find refuge in each other. Their lives have been upended–Frances has fled heartbreak and claustrophobic Manhattan for an isolated artist colony; Yasha arrives from Brooklyn to fulfill his beloved father's last wish: to be buried "at the top of the world." They have come to learn how to be alone. But in Lofoten, an archipelago of six tiny islands in the Norwegian Sea, ninety-five miles north of the Arctic Circle, they form a bond that fortifies them against the turmoil of their distant homes, offering solace amidst great uncertainty. With nimble and sure-footed prose, Dinerstein reveals that no matter how far we travel to claim our own territory, it is ultimately love that gives us our place in the world.
If you're a parent or a caregiver, you know that kids are hungry all the time. And while you want to give them the best, snack time can be a true test. How do you avoid the convenient-but-unhealthy storebought treats and instead provide something that not only tastes good, but is good for them them too? With The Best Homemade Kids' Snacks on the Planet, you'll find more than 200+ great ideas for solving the snack conundrum. Recipes and ideas you can whip up in minutes, without fuss in the kitchen, or fuss from your kid! So whether you're packing snacks for your purse, the school bag, the sports bag, or the can't-make-it-until-dinner whining hour, you'll find quick and healthy ideas everyone in your family will love.
  ***********
Thanks for stopping by!