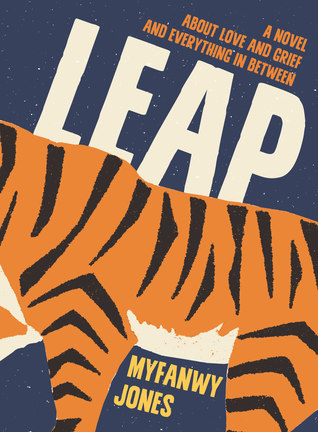 Title: Leap
Author: Myfanwy Jones
Published: Allen & Unwin May 2015
Status: Read from May 31 to June 02, 2015 — I own a copy   {Courtesy the publisher}
My Thoughts:
Leap by Myfanwy Jones is a sharply observed story of grief and guilt and the struggle to move on from loss.
Three years after the tragic death of his girlfriend, Joe is still wallowing in guilt. Unable to re-imagine his future without her, he simply aims to stay busy, working two dead end jobs, and running through the darkened streets of Melbourne, leaping any obstacles in his way.
Elsewhere, Elise's marriage is falling apart and her work is uninspiring, mournful and lonely, she is drawn to the beauty and violence of the tigers housed at the Melbourne Zoo.
In Leap, Jones has created two very different characters deeply affected by their respective losses, angry, heart broken and plagued by inertia they are unable to move forward with their own lives.
So Joe is challenged by the slow return of his desire for life. Moving on feels like a betrayal, but his punishing routine of parkour and work is no longer as satisfying as it once was given his attraction to his newest housemate, an enigmatic nurse. He is further challenged by the charm of his blue-eyed workmate, the ailing health of his Uncle and the needs of the young troubled teen he mentors.
Meanwhile the listlessness pressing on Elise is finally pierced when her husband announces he is leaving her. She escapes, not unhappily, to the home of her best friend for a few weeks and on her return home immerses herself in her obsession with the tigers at the zoo, enjoying being unaccountable to anyone but herself. Alone, she is finally able to confront her resentment and grief, to mourn her lost daughter on her own terms.
While I struggled a little with the narrative initially, which is shared between the two characters and moves between the past and present, I soon settled into the rhythm of the story. The emotion is powerful, yet the story is not without humour. The prose is thoughtful and genuine.
Well written, Leap is a moving novel.
"And maybe no trick he pulls off is ever going to bring her back but this one-it's for her. He is going to make a perfect landing.
Breathes: One. Two. Three. Four. Five. Leaps"
Available to purchase from
Allen & Unwin I
I Booktopia I Amazon AU I  via Booko
and all good bookstores.