The Its Monday! What Are You Reading meme is hosted at Book Journey. In Sheila's absence I'm linking this post via Twitter at #IMWAYR, please join me!
Life…
So it's been a week or two (if you noticed). I have few excuses for my unscheduled break other than the chaos of the school holidays, an unhealthy obsession with Netflix (specifically The Vampire Diaries) and general apathy brought on by aging (I turned 42 last Tuesday).
I read, but posted only a couple of reviews, I'm going to do my best to get caught up ASAP.
What I Read Last Week
(and the week before)
Missing You by Kylie Kaden
The Nutters by Kate Starmer
The Chocolate Promise by Josephine Moon
Food 52: Genius Recipes by Kristen Miglore
Inside the O'Briens by Lisa Genova
Death in the Rainy Season by Anna Jacquiery
Love at First Flight by Tess Woods
The Liar by Nora Roberts
Season of Salt and Honey by Hannah Tunnicliffe
New Posts
(click the titles to read my reviews)
AWW Feature: Kylie Kaden and Book Nerds Anonymous
Review: Missing You by Kyle Kaden ★★★★
Review: The Nutters by Kate Starmer ★★
Weekend Cooking: Food 52: Genius Recipes by Kristen Miglore
AWW Feature: Tess Woods, Love at First Flight and the road to publication
Review: Love at First Flight by Tess Woods ★★★
Weekend Cooking: Season of Salt and Honey by Hannah Tunnicliffe ★★★★

What I Am Reading Today
The loner Erlendur has recently joined the police force as a young officer. The beat on the streets in Reykjavik is busy: traffic accidents, theft, domestic violence, contraband… And an unexplained death. When a tramp he met regularly on the night shift is found drowned in a ditch no one seems to care. But his fate haunts Erlendur and drags him inexorably into the strange and dark underworld of the city. – Features the young Erlendur: "Reykjavik Nights "is a prequel to the long-running, acclaimed series that recently concluded with "Strange Shores."
What I Plan To Read This Week

(click the covers to view at Goodreads)
An idyllic suburban town. A devastating discovery. Shocking revelations that will change three lives forever. At the end of a long winter in well-to-do Ridgedale, New Jersey, the body of a newborn is found in the woods fringing the campus of the town's prestigious university. No one knows the identity of the baby, what ended her very short life, or how she wound up among the fallen leaves. But among the residents of Ridgedale, there is no shortage of opinions. When freelance journalist, and recent Ridgedale transplant, Molly Anderson is unexpectedly called upon to cover the disturbing news for the Ridgedale Reader—the town's local paper—she has good reason to hesitate. A severe depression followed the loss of her own baby, and this assignment could unearth memories she has tried so hard to bury. But the history Molly uncovers is not her own. Her investigation unravels a decades-old trail of dark secrets hiding behind Ridgedale's white picket fences.
Successful hubbie? Tick. Facebook-worthy baby? Tick. Bikini-body six weeks after giving birth? Um … not so much. Fashion PR exec Ally Bloom got her happy ending. Okay, her marriage might be showing the odd crack, her battleaxe mother-in-law might have come to stay, and she might not be the yummy mummy she'd imagined, but it's nothing a decent night's sleep and a firm commitment to a no-carb diet won't fix. But when Ally returns to work and finds she'll be reporting to a 22-year-old airhead, she decides to turn her back on life as a professional fashionista and embrace her inner earth mama instead. So it's out with the Louboutins and champagne and in with the sensible flats and coffee mornings with the Mummy Mafia. From attending her first grown-up dinner party only to discover that placenta is top of the menu to controlling her monster crush on local playgroup hottie Cameron, Ally must find her feet in the brave new world of the stay-at-home mum.
For as long as she can remember, Teagan Bliss has wanted to manage her family's property. She's invested everything in the farm, knowing that when her parents retire she'll be ready to take the reins. But when a family betrayal leaves her reeling, Teagan is forced to rethink her entire future. Heartbroken, Teagan flees to her aunt's property in the idyllic Falls Valley. Vanessa is warm and welcoming and a favourite of the locals who drop in regularly for cocktail hour. Teagan soon catches the attention of sexy local farrier Lucas Knight, and with a new job, new friends and the prospect of a new relationship, she slowly begins to open up again. But the village is a hotbed of gossip and division and when Teagan gets caught up in town politics, Lucas and Vanessa become concerned. As the tension in town escalates, Teagan must decide who to trust. But when she realises those close to her have been keeping secrets, the fallout may split Teagan apart forever.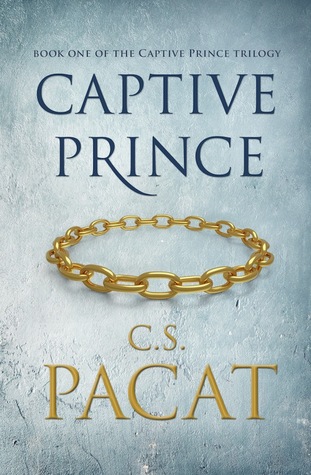 Damen is a warrior hero to his people, and the rightful heir to the throne of Akielos, but when his half brother seizes power, Damen is captured, stripped of his identity, and sent to serve the prince of an enemy nation as a pleasure slave. Beautiful, manipulative and deadly, his new master Prince Laurent epitomises the worst of the decadent court at Vere. But in the lethal web of Veretian politics, nothing is as it seems, and when Damen is caught up in a dangerous play for the throne, he must form an alliance with Laurent to survive and save his country. For Damen, there is just one rule: he must never reveal his true identity. Because the one man Damen needs is the one man who has more reason to hate him than anyone else . . .
***********
Thanks for stopping by!