I'm excited to welcome Kylie Kaden to Book'd Out today to celebrate the release of her second novel, Missing You.
Kylie graduated with an honours degree in psychology from Queensland University of Technology in 2000, she shares her frazzled parenting experiences in her regular column in My Child magazine, and is a strong advocate for telling it like it is when it comes to the struggles (and joys) of raising kids. Raised in Queensland, she lives in Brisbane with her husband and three young sons. Kylie knew writing was in her blood from a young age, using her brother's Commodore 64 to invent stories as a child. Her debut novel, Losing Kate, was published in 2014 (Random House).
Missing You is a tantalising love story and a seductive suspense novel.
"'Our lives were built around the strength of a kiss between strangers. Yet seven years on, look where it led us . . .'
When Aisha met Ryan she fell hard for his good looks and easy charm. Why worry that he didn't want children or a 9 to 5 job? Nothing and no one would come between them. But with the birth of their high-needs son, Eli, their extraordinary love is shackled into an ordinary life, their passion blunted by responsibility. Until Ryan can't take it anymore.
Then, following a mysterious phone call late one night, Aisha leaves four-year-old Eli in the care of her elderly father Patrick – and doesn't come back. As Patrick struggles with the grandson he barely knows or understands, his frustration with his missing daughter and absent son-in-law quickly turns to fear. Particularly when blood is found in Aisha's abandoned car . . . "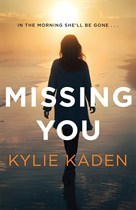 My review of Missing You will be published later today, in the meantime please enjoy this guest post from Kyle Kaden.
Book Nerds Anonymous
Since I gouged teeth marks through The Very Hungry Caterpillar, I don't think I've gone a day without a book. They've been a constant. Just like my husband can recite who won the footy final each year for the last dozen or so and where he was for each, I can tell you that I bought Lovely Bones on Kamari Beach on Santorini (as it was one of the few books I could find in English). That I read Wuthering Heights in a converted barn in Tuscany (out loud). Like fire leaves its mark between growth rings of a tree, you can read my life by the books I've read, infer what stage of a relationship I was in, the life-phase, the mood – by the titles I chose. Like people we meet, some books are quickly forgotten, while others stay with us always. I'm a self-confessed book nerd, and here's why.
I love movies, live music, theatre. But books – they are so approachable. Perennially available, they are ready when you are with no ad-breaks, no intermission. You can turn them down in bed one night, and they'll wait patiently beside you 'til you're in the mood. The story unfolds at the pace you set, the characters look exactly like they should (with perfect accents). You can devour them on a train, on a beach, in a line. And there is a book for every taste. They offer a whole lot more than entertainment.
Books are like an update for your brain. They can enrich your soul, allow you to walk in the shoes of another human – all from the safety of your doona (and for the cost of a library card). Books are a friend for the lonely kid who'd rather fight dragons in dungeons during lunchbreaks than kick goals. They are a companion through post-divorce celibacy, a time-waster after a hysterectomy, a date on a Saturday night. For those that are believers, you shall never be bored. They can guide you through a diagnosis, a game of 500, a quilt project. Books are a tardis: there is always a book about to be released to transport you to another time and place. All you have to do is let it.
So I am humbled when the powers that be decided I was worthy to add the product of some of my mixed-up musings to the great big party of imaginary friends that literature has to offer the world. And everyone's invited.
My latest romantic thriller Missing You, is about relationships tested by adversity and introduces Aisha: an offbeat-beauty struggling to be the mum she never had, Ryan – an opportunistic charmer coming to terms with being the dad he never knew he wanted to be, and Pat – a grumble-bum Grandpa lumbered with the care of a difficult four year old – Eli, who sees the world differently to the rest of us. When Aisha leaves her beloved son in the care of her elderly father and doesn't come back, the family's concern quickly turns to fear when a bloodstain is found in Aisha's abandoned car…
Missing You is available to purchase from
Random House I
I Booktopia I via Booko
and all good bookstores.