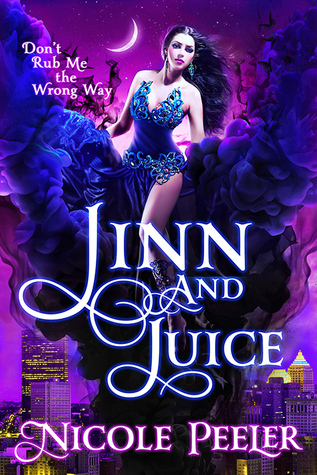 Title: Jinn and Juice {The Jinni #1}
Author: Nicole Peeler
Published: Orbit April 2015
Status: Read on April 03, 2015  – I own a copy {Courtesy the publisher/Netgalley}
My Thoughts:
Jinn and Juice introduces a new paranormal romance/urban fantasy series from Nicole Peeler.
It's less than a week until Lyla will finally be free of the curse that condemned her to a thousand years of servitude when Ozan, a Magi needing her help to find a missing girl, binds her to his will. A Jinn, Lyla has little choice but to obey her new Master and can only hope he will stick to their agreement to release her when their mission is complete, but Lyla will have face to her worst nightmare before her most heartfelt wish cam be granted.
Lyla was the teenage daughter of a an ancient Persian king, desperate to avoid being married off, when she was cursed by the genie she sought help from. Now she is a Jinn and a belly dancer/burlesque performer at a Pittsburgh club, biding her time until the curse expires.
Lyla's inner circle have her back and are a fun and interesting group, including a gay Delphi Oracle, a Will-o-the-Wisp, a half troll and a psychic drag queen.
The romance between Lyla and Oz doesn't offer any real surprises but it is enjoyable. Lyla resents Oz at first and certainly doesn't trust him, but eventually comes to realise he is a genuine and honourable guy.
There is plenty of humour, some of it a little crude and obvious but fun and snarky nevertheless. The action is fast paced as Lyla hunts for her new Master's missing friend, which leads to a deadly confrontation with an age old enemy.
Set in modern day Pittsburgh, I liked the way in which Peeler uses the landscape and 'stains' the magic with steel. 'Sideways' is the magical world that overlaps our own and embraces a variety of creatures and beasties.
I enjoyed Jinn and Juice, it was a quick, escapist read for a lazy afternoon.
Available to Purchase From
Hachette I Amazon US I BookDepository I IndieBound