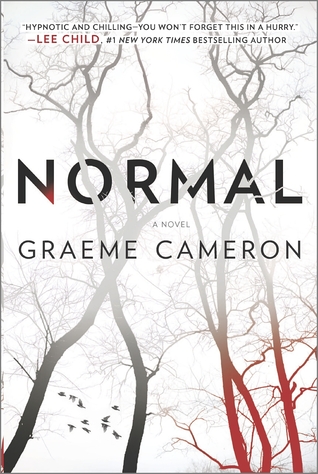 Title: Normal
Author: Graeme Cameron
Published: Harlequin MIRA March 2015
Status: Read from March 31 to April 01, 2015 — I own a copy   {Courtesy the publisher/Netgalley}
My Thoughts:
Normal by Graeme Cameron is told in the first person, by an unnamed man who lives in a lovely English farmhouse with a separate garage, drives a white Transit van, and enjoys cooking.
The novel opens as our mystery man is cleaning up after the murder and dismemberment of his latest victim, and is interrupted by an unsuspecting young woman whom he abducts. With Erica safely caged in his purpose built, underground games room our protagonist goes grocery shopping.
"I know exactly when it all started to go wrong for me. It was April 5 at 19:23:17, and it started with a pair of eyes."
It is there that he meets Rachel and his life begins to unravel.
Cameron has created a rather startling antihero, a serial killer who falls in love with a checkout girl. For years he has happily stalked, kidnapped, murdered and even eaten young women, but meeting Rachel throws him off his game.
"I stared down at my feeble prey lying cock-eagled on the floor, and I felt all of the craving, all of the desperate, clawing need simply evaporate. Abruptly, everything in my head was Rachael, everything in my gust was regret and everything at my feet was a ridiculous, unfathomable error of judgement."
The question is what to do with his most recent captive, who turns out to be quite an unusual young woman, and the police detectives who are persistently curious about his house guest. The killer is clever and resourceful but slowly he begins to lose control of his carefully constructed, 'normal' life, and shockingly elicits some sympathy for his predicament.
The best surprise is in the black humour, which is often sly and offbeat. Ordinary scenes are injected with a dark twist that provoke a startled snicker.
"In Fruit & Veg I selected a peach. Small, rosy and perfectly rounded, she set my mouth watering the moment she caught my eye. Her burly, bruised companion, however, swiftly killed my appetite."
Disturbing and whimsical in equal measure, Normal has its flaws, but overall is an entertaining, provocative and sharply written novel.
Available to Purchase From
Harlequin I Amazon US I BookDepository I IndieBound
Preorder Via Booko