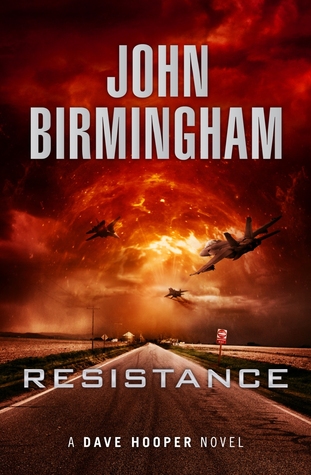 Title: Resistance {Dave Hooper #2}
Author: John Birmingham
Published: Pan Macmillan AU March 2015
Status: Read from March 12 to 15, 2015 — I own a copy {Courtesy the publisher}
My Thoughts:
The second novel to feature rig engineer turned superhero monster slayer Dave Cooper, Resistance is another darkly funny, action packed fantasy adventure from Australian author John Birmingham.
Dave is enjoying his celebrity, in a typical Dave-like manner, after the defeat of the Hunn but the breach in New Orleans was just the start and now the Hunn are boiling up from the underworld realm all over the globe, eager to reclaim their dominion.
There is no getting away from the fact that Dave is a dick, and his basic nature is unchanged despite becoming a superhero. In Resistance he is confronted with his new responsibilities as the only man able to translate the intentions of the Hunn but he manages to alienate almost everyone when he makes the wrong choices.
Like Emergence, Resistance is a fast paced, entertaining read, hilarious, action – packed and unfailingly politically incorrect.
I'm looking forward to Dave's final adventure in Ascendance
Resistance is available to purchase from
Pan Macmillan I
I Booktopia I via Booko
and all good bookstores.
Also available: Book 1