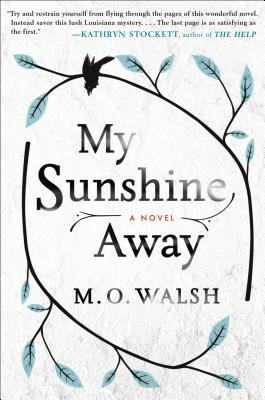 Title: My Sunshine Away
Author: M.O Walsh
Published: GP Putnam & Sons: Penguin USA February 2015
Status: Read on February 15, 2015 — I own a copy   {Courtesy the publisher/Edelweiss}
My Thoughts:
My Sunshine Away is a moving and poignant coming of age narrative from debut author M.O. Walsh.
The unnamed narrator of My Sunshine Away is fourteen during the summer of 1989. He lives with his mother in middle class Baton Rouge, where he rakes leaves, plays baseball in the streets, chases the ice cream van and spies on the object of his obsessive crush, fifteen year old Lindy Simpson. One late summer evening his suburban idyll is disrupted when Lindy is is attacked on their street on her way home from a track practice.
This is a story of memory and hindsight, innocence and heartache, blessings and tragedy. Walsh brilliantly recalls the emotional intensity of adolescence, the confusion, the conviction, the naivete, and the regrets that can linger into adulthood. He highlights the joy and melancholy of first love, the shock of first disappointments, and the way in which these things stay with us.
The intensity of the first person narrative is tempered slightly by the adult perspective as the narrator segues between recall and rumination of Lindy's rape and the aftermath.
"Every moment is crucial. And if we recognize this and embrace it, we will one day be able to look back and understand and feel and regret and reminisce and, if we are lucky, cherish."
Referencing defining events such as the Challenger explosion, the capture of Jeffrey Dahmer and Hurricane Katrina, Walsh evokes nostalgia for long summer days on neighborhood streets, before the advent of cell phones and the internet. He explores the way in which the experiences of childhood and adolescence help to shape who we become as adults, but also the ways in which our memories of that time may be deeply flawed.
"But for every adult person you look up to in life there is trailing behind them an invisible chain gang of ghosts, all of which, as a child, you are generously spared from meeting."
Evocative, tender and sincere My Sunshine Away is an absorbing, beautifully observed tale.
Available to Purchase From
Penguin USA I Amazon US I BookDepository I Indiebound