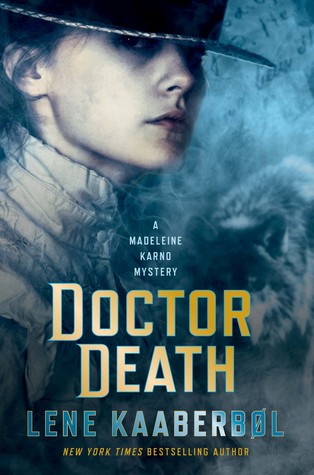 Title: Doctor Death {A Madeleine Karno Mystery #1}
Author: Lene Kaaberbøl
Published: Atria Books February 2015
Status: Read from February 15 to 16, 2015 — I own a copy   {Courtesy the publisher/netgalley}
My Thoughts:
Set in provincial France during the late 1800's, Doctor Death is the first book in a new historical mystery series from Lene Kaaberbøl, featuring Madeleine Karno.
"My father was reluctant to let me assist when he examined the dead. He said it could only hurt my reputation and my future – by which he meant my chances of marriage. For the most part, my father was a man of progress, absorbed by the newest ideas and the latest technology. But he was incomprehensibly old-fashioned on this particular point."
The daughter of a widowed surgeon/coroner, Madeleine dreams of one day following in his footsteps but for now must be content with those rare times when her father allows her to assist him. Intelligent, rational and ambitious, Madeleine is an admirable character who chafes at the expectations of the era though rarely in an overt way. When her father is injured she seizes the opportunity to become more involved in his current case that begins with a dead girl, scarred with human bites, found on her snow covered doorstep.
Solving the complex mystery involves a combination of common investigation techniques led by Madeleine's father's colleague, the Commisioner, and the fledgling science of forensics utilised by Madeleine and her father. It is a strange case that involves an unidentified parasite, a missing boy, a pack of wolves, a murdered priest and it becomes increasingly unsettling as Madeleine gets closer to unmasking a killer. There are red herrings and twists that keep the reader guessing as Kaaberbøl explores the conflicts of human and beast, science and faith.
"Illness is not necessarily a punishment from God…. Sometimes it just comes to us. If we are lucky, it is a trial from which we can learn. Other times, we must just accept that we humans do not understand everything."
The tone is quite dark overall and there are elements of the story which readers may find disturbing. There is a touch of unconventional romance which will be interesting to see develop in further installments. The pace is good but the narrative does feel a little dry and formal at times, perhaps a consequence of the translation as much as a reflection of the period.
I did enjoy Doctor Death, the mystery was intriguing and Madeleine is an interesting lead but I have to admit I wasn't as engaged as I hoped to have been. I do hope to continue with the series though to see how it develops.
Available to Purchase From
Simon & Schuster I Amazon US I BookDepository I Indiebound