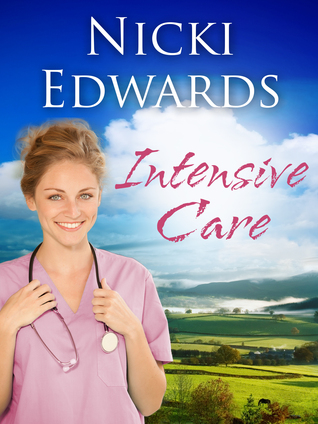 Title: Intensive Care
Author: Nicki Edwards
Published: Momentum February 2015
Status: Read from February 15 to 16, 2015 — I own a copy   {Courtesy the publisher}
My Thoughts:
Crushed when she discovers her live in boyfriend of three years has been having an affair, ICU nurse Kate Kennedy packs up her belongings and desperate to move on, impulsively accepts a position at a hospital in the small country town of Birrangulla, five hours west of Sydney. Everything seems to be falling into place, she's found the perfect job, the perfect home, and in search of the the perfect cup of coffee, may just have found the perfect man, but
Intensive Care is a contemporary rural medical romance in which the author, Nicki Edwards, draws on her love of country Australia and her personal nursing experience.
I found Kate to be a bit of a passive-aggressive character. There is a lot of emphasis on her dislike of confrontation but I thought she was often over sensitive, snappish and impatient. I understood her avoidance of her cheating boyfriend Marcus, especially as more details about their relationship were revealed, and sympathised with her feelings of hurt and betrayal. And while I admired Kate's professional compassion for her patients, her reaction to Joel's sister's concerns bothered me, she didn't demonstrate a lot of understanding for the younger woman's fears.
Taking place over the period of about a year the romance between Kate and Joel develops slowly. Though they both have good reasons to be wary of beginning a new relationship, I found their chemistry a bit lacking. Joel in particularly seems disinterested much of the time while Kate tries to force the issue, which was slightly discomfiting.
Joel, with his Irish accent, coffee making genius, and handyman skills, is an appealing hero, made more so by his tragic past. Though perhaps a little passive for my taste, I found him sweet and charming.
A blend of medical drama, and rural romance, Intensive Care is a pleasant novel which should appeal to fans of both genres.
Please click here to learn more about Nicki Edwards and her writing journey.
Intensive Care is available to purchase from
Momentum I Amazon  I Amazon UK  I Amazon AU I Barnes and Noble
Google Play I iBooks Store I Kobo