I'm happy to introduce you to Nicki Edwards today.
After twenty-five years of marriage, travel, children, study and work, Nicki decided she wasn't busy enough. In January of 2014 she woke up and decided to fulfill a lifelong dream to write a novel. Nicki calls herself a city girl with a country heart. Unfortunately the only way she can escape to the countryside of her dreams is by living vicariously through the lives of the characters in the rural romance novels she loves to read. If she could spend her days dressed in jeans and boots out on the farm surrounded by horses, dogs, cows and sheep, she'd be in her element. When Nicki isn't dreaming, reading or writing about rural life, she can be found in her scrubs in the emergency department where she works fulltime as a nurse.
Intensive Care is her debut novel, a medical romance, drawing on her love for all things country and her nursing experience.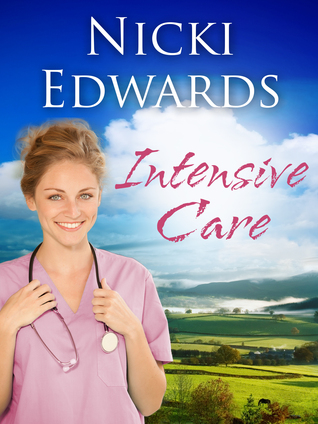 "Escaping to the country was meant to be easy …
On the surface it looks like busy intensive care nurse Kate Kennedy has it all: a long-term relationship, a great career and a sleek inner city apartment. But appearances are deceiving, and in one fell swoop everything comes crashing down around her. In a moment of spontaneity, Kate leaves her city life and takes a new role as Nurse Unit Manager at Birrangulla Base Hospital, but her dream move proves harder than expected.
Local cafe owner Joel O'Connor finds himself increasingly drawn to the gorgeous new nurse, but like Kate, he's been scarred by love and isn't looking to jump into anything. Yet their chemistry is hard to deny and after a near fatal incident, Joel and Kate find themselves opening up to one another.
Just when Kate thinks she's found love again, their fragile relationship is thwarted by their pasts. Can they both let go of their guilt and grief to move on to a bright new future?"
My review of Intensive Care can be read HERE, in the meantime, please read on to learn more about Nicki Edward's writing journey.
****
My Writing Journey
Thanks for having me on Book'd Out.
It's been a busy couple of weeks since the launch of my "book baby", Intensive Care – a rural romance full of medical drama and I have to keep pinching myself that it's all real – I wrote a book!
As a child I always had my nose stuck in a book, and ever since I learned to read I harboured a secret desire to one day write my own. I was encouraged by teachers at school to pursue some sort of career in writing, but I never thought I was good enough. After all the years of reading, I'd put authors on a very high pedestal indeed!
At the start of 2014 I decided enough was enough. If I ever wanted to tick off the next item on my bucket list and write a book, then I had to stop talking about it and actually do it! I started writing at the end of January in 2014 and four months later submitted what I'd written to Momentum. Intensive Care is my debut novel, and I'm currently working on the follow up, titled Emergency Response. I've also written another medical rural romance, The Peppercorn Lease, which is yet to be published.
Inspired after reading best-selling rural romance author Rachael Johns' book Jilted, and then being introduced to the rural romance genre, I decided to write my own rural romance. They say "write what you know", and "write what you love". What I know is nursing and what I love is the country: so it was these two things that inspired the writing of Intensive Care.
Everyone knows the saying that truth really is stranger than fiction. As a nurse, I have the incredible honour and privilege of being with people in both their moments of triumph and in their tragedies – often in a single shift – and I wanted to be able to share some of these incredible stories. I hope that I have been able to portray the incredible work that intensive care nurses do every single day. I'm now working in the Emergency Department so it's pretty easy to guess where my next stories are coming from! While some of my characters and stories are real (names changed of course), some of my colleagues may recognise themselves as minor characters in my books!
The other inspiration for writing rural romance comes after living in regional Australia for three years. Now living back in the city, I still yearn for the simple lifestyle I had back then when I drove past paddocks full of cows and sheep on my way into town. There's something special about life in the country and one day I plan to return and have my own little "escape to the country" moment, just like Kate. Hopefully it won't be because I have a broken heart.
One of the most rewarding things about embarking on this writing journey is the new people I have met – many have only been online, but I feel like we've been friends for years and I can't wait for the day that I meet some of these readers and writers in person. Being connected with other writers has been a very important part of this journey. When I'm filled with self-doubt, they're there to encourage me to keep going. I joined Romance Writer's Australia and am involved with a number of smaller writer's groups, both of which provide immense support.
Intensive Care is about a young city nurse who escapes from Sydney to regional NSW after a relationship breakdown. She hopes the country move will heal her broken heart. She quickly falls in love with life in Birrangulla, enjoys her job working in the intensive care unit and then meets and falls in love with cute Irish barista Joel O'Connor. Unfortunately, adjusting to country life and fitting into the community isn't as easy as Kate expected. This is a story of loss and grief and of finding hope and love again.
I hope readers enjoy the sweet nature of the book as well as the emotional moments that Kate faces with her patients in the intensive care unit in the backdrop of a small Australian community. I think the characters are very 'real', and while Kate and Joel's relationship develops slowly, (they have a long friendship before it finally blossoms into romance), I'm hoping that the readers will enjoy this. I don't write open door bedroom scenes, so if you're looking for hot and steamy sex scenes, you might be disappointed by my book.  At the end of the day, I hope readers like the book enough to want to read Emergency Response which is the love story between Kate Kennedy's brother Nathan and nurse Mackenzie Jones.
Now I just need to find time to finish it!
Intensive Care is available to purchase from
Momentum I Amazon  I Amazon UK  I Amazon AU I Barnes and Noble
Google Play I iBooks Store I Kobo