The Its Monday! What Are You Reading meme is hosted at Book Journey.
Life…
 We are settling back into routine now, the kids are whining about homework already and are our regular afternoon and weekend activities have resumed. I'm still not quite used to having my office in the lounge room though my husband, knowing how much I missed my lovely big desk, surprised me by making a new one for me at work, so I am no longer feeling hemmed in by that tiny hutch.
I'm currently binge watching Falling Skies on Amazon Prime, I still have two season to go and only 3 days of the trial left – eek!
  What I Read Last Week
The Exit by Helen Fitzgerald
Runaway Lies by Shannon Curtis
A Small Madness by Dianne Touchell
Avery by Charlotte McConaghy
The Secrets of Midwives by Sally Hepworth
The Fire Sermon by Francesca Haig
  New Posts

(click the titles to read my reviews)
Review: The Exit by Helen Fitzgerald ★★★1/2

Review: Runaway Lies by Shannon Curtis ★★★★

Review: A Small Madness by Dianne Touchell ★★★★

Review: Avery by Charlotte McConaghy ★★★
Review: The Secrets of Midwives by Sally Hepworth ★★★★
Stuff On Sundays: Eclectic Reader 2015 Recommendations Part 2
 What I Am Reading Today
A delightfully funny and inspiring novel about a very modern pilgrimage, and one woman's chance to rediscover what she's lost. 'I watch the highway go by and ponder my situation. I am on the run from my husband's divorce lawyer, my mojo is still missing in action and my demon ex-lover is lurking . . . But, all things considered, my pilgrimage is going well . . .' Arkie used to be a trendspotter, running a successful business advising companies on 'the next big thing'. Until she lost her marriage and her mojo along with it. Her eccentric new friend Haruko suggests a pilgrimage in Japan. But funds are tight, so instead Arkie's going on a very Australian trip, to all the 'Big Things'. With Haruko as her guide, magic is everywhere. A Buddha appears next to the Big Redback, the Big Macadamia rises from the jungle like a lost temple and inside the Big Shell she can hear a tinkling voice, reminding her of the child she never had. As her improbable adventure unfolds, realisation dawns: could it be that, despite her celebrated foresight, Arkie's been missing what was right before her eyes?
 What I Plan To Read This Week
(click the covers to view at Goodreads)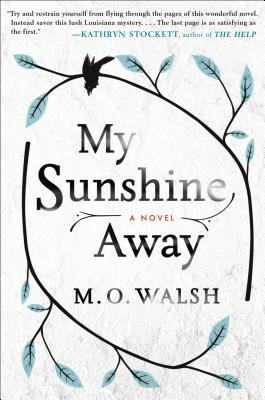 It was the summer everything changed.… My Sunshine Away unfolds in a Baton Rouge neighborhood best known for cookouts on sweltering summer afternoons, cauldrons of spicy crawfish, and passionate football fandom. But in the summer of 1989, when fifteen-year-old Lindy Simpson—free spirit, track star, and belle of the block—experiences a horrible crime late one evening near her home, it becomes apparent that this idyllic stretch of Southern suburbia has a dark side, too.
Julia's life is comfortable, if unremarkable, until her sister's brutal murder opens old wounds. She finds solace in her sister's best friend, Sophie, but when Sophie reveals the extent of her sister's online life, Julia becomes convinced that the truth about her death lies deep in the dark, sordid world of online chatrooms and internet sex. What begins as Julia's search for the truth about her sister quickly turns into an exploration of herself and her own desires. After all, the internet is her playground, and why be just one thing when you can be as many as you like? What could possibly go wrong? After all, it's only cybersex, isn't it? No one's going to get hurt. But then she meets the dark and mysterious Lukas in an online chat room, and things begin to get very dangerous indeed.
This is a world divided by blood – red or silver. The poverty-stricken Reds are commoners, living in the shadow of the Silvers, elite warriors with god-like powers. To Mare Barrow, a 17-year-old Red girl from the Stilts, it looks like nothing will ever change. Then Mare finds herself working at the Silver palace, in the midst of those she hates the most. She quickly discovers that, despite her red blood, she possesses a deadly power of her own. One that threatens to destroy Silver control.
Daisy never asks you to feel sorry for her. Daisy is 27-years-old and has only months to live. And, each day, she's finding her way through what needs to be done. Her major worry is what her wonderful, charming husband, Jack, will do without her. She knows that he won't take care of himself so Daisy has to do it for him. As she searches for Jack's next wife, she begins to realise that her plan to ensure Jack's happiness is much more complicated than she expected. Life-affirming, authentic, funny and heartbreakingly beautiful, Before I Go is all about love
  ***********
Thanks for stopping by!