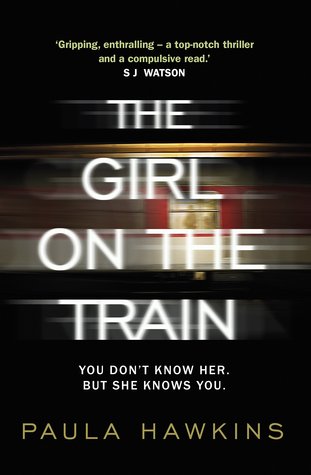 Title: The Girl on the Train
Author: Paula Hawkins
Published: Transworld Jan 2015
Status: Read from January 15 to 17, 2015 — I own a copy   {courtesy the publisher/Netgalley}
My Thoughts:
A tense and twisty thriller, The Girl on the Train is garnering plenty of well deserved attention for debut author, Paula Hawkins.
After a slightly bewildering start I was gripped by this chilling, tangled tale of love, hate and betrayal. Revealing much more than the back cover hints at risks spoilers that will ruin the surprises in store for the reader. I think it's important to unravel the secrets and lies as the author intended and to allow yourself to become caught up in the twists and turns of the plot.
Astute readers may solve the mystery before the final pages but its unraveling is compelling. The conclusion may be a little neat but should also satisfy.
Clever and disturbing in equal measure The Girl on the Train is an engrossing read, don't be fooled by the brevity of this review – I just don't want to spoil anything for you!
Available to Purchase From
Transworld I Amazon US I Amazon UK I Amazon Au
BookDepository I in Australia: via Booko