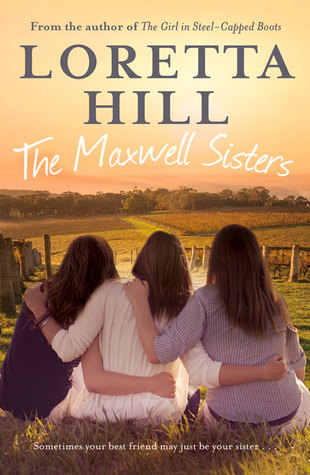 Title: The Maxwell Sisters
Author: Loretta Hill
Published: Random House Jan 2015
Status: Read from January 11 to 12, 2015 — I own a copy   {Courtesy the publisher/netgalley}
My Thoughts:
Phoebe Maxwell is getting married and she is determined that the occasion will be the catalyst which mends the rift between her two older sisters, Eve and Tash. To that end, she insists on having her wedding at the family home and winery, Tawny Brooks, necessitating all hands on deck to repair the restaurant her fiance and Eve once ran on the grounds. Eve and Tash are both reluctant to return home, but for reasons that have little to do with their feud. The Maxwell sisters are keeping secrets… and they aren't the only ones.
With warmth and humour Hill introduces a family bound by love but divided by secrets. Everyone wants Phoebe to have the wedding of her dreams so they are willing to do whatever it takes to make it happen but putting aside their own problems is more difficult than they expect. As the story unfolds we learn of Eve's guilty conscience, Tash's heartbreaking tragedy and that Phoebe is keeping secrets of her own.
Hill's characters are easy like and relate to, Phoebe is the optimist, Eve the pessimist and Tash the perfectionist. The Maxwell patriarch is considered to be a little crazy and the girls Greek mother is all about family and food. The men in the sister's lives, Heath, Spider and Adonis..uh Adam, are all quite different but prove to be more than capable of holding their own against the Maxwell clan.
The relationships between the family, the sisters and their various lovers are well drawn, though I did think one couple declared true love a little too early to be sensible. It's perhaps the only off note that mars the plot which includes a touch of suspense, a healthy dose of romance, and lust, and plenty of drama.
Hill has left behind the dry and dusty Pilbara and set this novel in the fertile southern region of the state. I spent many of my school holidays in and around the area of Margaret River, so I particularly enjoyed being able to visit towns familiar to me.
The Maxwell Sisters, Loretta Hill's fifth novel, is an engaging story about love, relationships, loyalty and family. Enjoy it with a glass of Western Australian wine.
I read this as part of a blog tour organised by Random House. To check out what others have thought about The Maxwell Sisters, visit WriteNote Reviews , whose review appeared yesterday, or check out Turner's Antics tomorrow.
 The Maxwell Sisters is available to purchase from
Random House I
I Booktopia I via Booko
and all good bookstores.
See also my reviews of