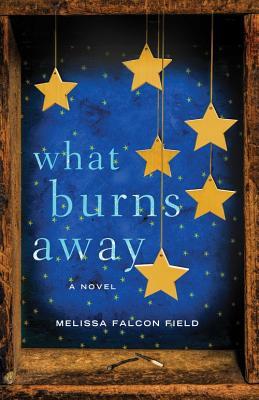 Title: What Burns Away
Author: Melissa Falcon Field
Published: Sourcebooks Landmark January 2015
Status: Read from January 03 to 05, 2015 — I own a copy  {Courtesy Sourcebooks/Netgalley}
My Thoughts:
What Burns Away by Melissa Falcon Field is a poignant novel about loss, loneliness, longing and burning temptation.
Claire Spruce is struggling after moving from New England to Wisconsin with her physician husband, Miles. While she loves being with her much wanted toddler son, Jonah, she misses her former home, her career as a research meteorologist, and the company of her busy, distracted husband who often works 18 hour days. Overwhelmed, frustrated and restless, when Claire reconnects with her childhood sweetheart, Dean, via Facebook, she is startled and then drawn to the memory of light, heat and warmth he offers.
"I found my loneliness blooming— missing…our former life, who I was before I became a mother, my job, my brain, my research, my body, and who Miles and I used to be together. I started living my life looking backward, seeking out the past and longing for familiarity because nothing in our new life was recognizable to me."
Field has created an interesting, complex character in Claire, who is struggling with her present and haunted by her past. Unable to really consider the consequences, she is drawn to Dean, or perhaps more accurately to what he represents, as helplessly as a moth is to a flame.
The pace is measured, perhaps a little slow to start but worth persevering with. The writing is evocative and the settings vividly rendered. The suspense builds steadily as Claire's behaviour grows more erratic and the flickering flame becomes a raging inferno threatening to destroy everything Claire loves.
A taut, atmospheric and impassioned tale, What Burns Away is a compelling read.
Available to Purchase From
Sourcebooks I Amazon US I BookDepository I IndieBound
in Australia: via Booko