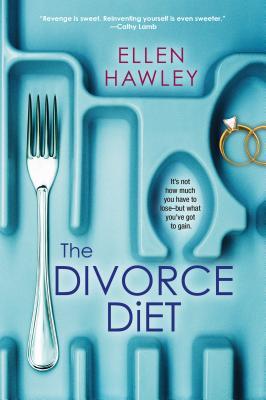 Title: The Divorce Diet
Author: Ellen Hawley
Published: Kensington Books December 2014
Status: Read from December 27 to 28, 2014 — I own a copy   {Courtesy the publisher/Netgalley}
My Thoughts:
Twenty five year old Abigail has a comfortable life, she is happily wed to her very own Prince Charming and is the adoring mother of their 7 month old daughter, Rosie. Sure she is still carrying a few extra pregnancy pounds, but the new diet she has started will take care of those. On the eve of her husband's birthday she creates an exquisite meal and waits patiently for him to come home from work. Thad is nearly an hour late and as he picks desultory at the dinner she lovingly prepared, she gently asks him what's wrong.
"It's not you", he says."Really. It's me."
The Divorce Diet by Ellen Hawley is a story about one woman's journey to reclaim and reinvent herself in the wake of her divorce. Thad has decided that 'this whole marriage thing' doesn't work for him and Abigail suddenly finds herself homeless, jobless, and near penniless. Forced to move back in with her parents, Abigail is barely keeping it together and to distract herself, focuses her attention on losing those last few pounds with the help of the Natural Weight Loss Plan Book and her imaginary diet guru's advice. She is fiercely clinging to the idea that Thad has simply made a mistake and will change his mind within weeks, if not days, until the moment she discovers him in their bed with somebody else. Devastated anew, Abigail wallows in a messy pile of laundry, bickers with her guru, and orders the Food Network to be added to her parent's cable before finding the energy to face the future.
I have to admit I found the diary-like narrative a bit repetitive as Abigail stumbles through her days amassing half eaten pop tarts and piles of laundry. I can imagine though that her behaviour would not be unusual after being dealt such a crushing blow to one's self image and esteem, and I found Abigail to be a very sympathetic character. I cheered her on as she slowly began to pull herself together, one small step at a time until she is able to stand proudly, and happily, on her own.
With biting humour and genuine compassion, Ellen Hawley has created a protagonist that should resonate with readers who have ever found themselves in a similar situation, and perhaps inspire those who are in the midst of their post divorce/break up journey.
Available to Purchase From
Kensington Books I Amazon US I BookDepository I IndieBound
in Australia: via Booko