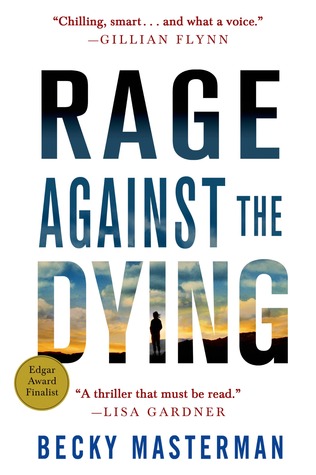 Title: Rage Against the Dying ( Brigid Quinn #1)
Author: Becky Masterman
Published: Minotaur Books June 2014
Status: Read from December 22 to 23, 2014 — I own a copy   {Courtesy the publisher/Netgalley}
My Thoughts:
Rage Against the Dying caught my attention when it was nominated for both The Crime Writers' Association Gold Dagger and the Edgar Award for Best First Novel. I was further intrigued to learn the protagonist is a retired fifty something year old female FBI agent.
Brigid Quinn is a women with a secret. She lives happily with her new husband, Carlo, and their two pugs, in a nice house in Tuscon, Arizona and spends her days combing the nearby wash for interesting rocks and learning to cook. Yet just a few short years ago, Brigid hunted sexual predators killers and human traffickers as an agent with the F.B.I. In Rage Against the Dying one of her past cases comes back to haunt her when a man is arrested and claims to be the 'Route 66' killer, responsible for the murders of a dozen women, including Brigid's protegee, Jessica. Floyd Lynch's confession is compelling, he is aware of details the FBI never released and leads them to what remains of Jessica's body, nevertheless when Agent Laura Coleman voices her doubts Brigid feels she owes it to Jessica, and her still grieving father, to investigate.
Fast paced, with plenty of tense, gritty, action, Rage Against the Dying is a complex mystery. The main plot centers around the confession of the serial killer and Brigid's doubts about it, but is further complicated by attempts on Brigid's life, another missing FBI agent and 'office' politics. The plot twists and turns, and though at times it relies on some contrivances that are a bit of a stretch, it offers an interesting story.
I love that Brigid is an older woman who remains feisty, resourceful and even sexual. She is complicated, flawed, and damaged but I found I both liked and respected her. Her cynicism is offset by her emotional vulnerability, and her confidence by her past failures. On a couple of occasions though I thought the author allowed Brigid to make mistakes an experienced agent wouldn't for the sake of the plot, which was a tiny bit disappointing.
Rage Against the Dying is an introduction to a series I think has real potential and I am looking forward to reading Fear the Darkness
Available to Purchase From
Minotaur Books I Amazon US I BookDepository I IndieBound
in Australia: via Booko