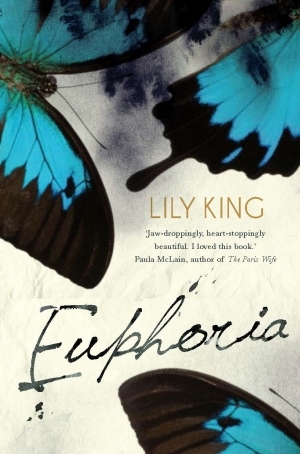 Title: Euphoria
Author: Lily King
Published: Pan Macmillan Au December 2014
Status: Read from December 07 to 08, 2014 — I own a copy   {Courtesy the publisher}
My Thoughts:
Euphoria by Lily King is a fascinating novel about three anthropologists studying native tribes in Papua New Guinea in the 1930s. American Nell Stone and her Australian husband, Fen, have decided to leave The Territory of New Guinea, abandoning their study of an uncooperative and violent tribe, when they meet Andrew Bankson the night before their planned departure. Bankson, lonely and frustrated after several isolated years studying the Kiona tribe, is desperate for Nell and Fen to remain in New Guinea and convinces them he can find a suitable tribe for them to integrate with. Eager to maintain contact with his colleagues, especially the enigmatic Nell, Bankson settles the pair with a nearby river tribe, the Tam.
The story is in part inspired by a real-life love triangle involving renowned anthropologists Margaret Mead, Reo Fortune, and Gregory Bateson, though it veers away from historical record. Bankson (based on Bateson) is the primary narrator looking back at the months he spent in the company of Nell and Fen, still trying to make sense of the intensely tumultuous period.
King explores the interpersonal themes of love, sex, desire, marriage and betrayal through the tense dynamics between her characters. While Nell is immediately excited by the new tribe, Fen is indifferent and ignores his responsibilities in favour of his own agenda. Nell, eager to share her findings, turns to Andrew, who is entranced by Nell's intellect and passion, but Bankson unwittingly fans longstanding jealousies and resentments, igniting intellectual and romantic competitiveness.
"Personality depends on context, just like culture….Certain people bring out certain trains in each other… You don't always see how much other people are shaping you."
The intensity of the relationship plays out against the fascinating backdrop of Nell's anthropological study of the Tam. King explores the issues related to field study, especially the unconscious, and conscious, ways in which researchers interpret what they observe, and the way in which they impact on the 'purity' of the tribe. Objectivity is a flimsy construct that shifts under the weight of even the briefest interaction, and collapses altogether with intimate contact.
The language and imagery of Euphoria is vivid, effortlessly evoking people and places. The pace and tension builds nicely to a rather understated, though shocking, end. There is a surprising subtlety to the text despite some explicit scenes of sex and violence. (view spoiler)
Euphoria is an intriguing story of personality and culture, darkly seductive and haunting.
Available to purchase from
Pan Macmillan I
I Booktopia I Bookworld I via Booko
and all good bookstores.
****