The Its Monday! What Are You Reading meme is hosted at Book Journey.
Life…
Things didn't go to plan last week 😦 A migraine meant three 'lost' days. I can't read when I have one, my vision blurs and trying to focus on anything makes me nauseous – thankfully they only happen 3 or 4 times a year now, I used to get 3 or 4 a month through my teens and twenties.
The past weekend has also been manic so I haven't had the time to catch up and honestly, this week my schedule is even crazier and I don't expect I will have much time for reading or the blog.
 What I Read Last Week
It's Not Me, It's You by Mhairi McFarlane
Eden by Candice Fox
Riverboat Point by Tricia Stringer
New Posts

(click the titles to read my reviews)
Review: Still Alice by Lisa Genova ★★★★
Review: Eden by Candice Fox ★★★★★
Review: Whisper the Dead by Alyxandra Harvey ★★★

Review: It's Not Me, It's You by Mhairi McFarlane ★★★★
About: Captivated by You by Sylvia Day
Weekend Cooking: Once a Month Cooking by Jody Allen
What I Am Reading Today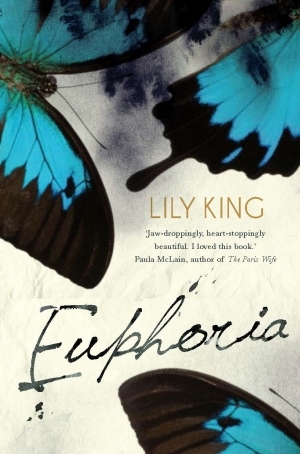 English anthropologist Andrew Bankson has been alone in the field for several years, studying the Kiona river tribe in the Territory of New Guinea. Haunted by the memory of his brothers' deaths and increasingly frustrated and isolated by his research, Bankson is on the verge of suicide when a chance encounter with colleagues, the controversial Nell Stone and her wry and mercurial Australian husband Fen, pulls him back from the brink. Nell and Fen have just fled the bloodthirsty Mumbanyo and, in spite of Nell's poor health, are hungry for a new discovery. When Bankson finds them a new tribe to divert them from leaving Papua New Guinea, the artistic, female-dominated Tam, he ignites an intellectual and romantic firestorm between the three of them that burns out of anyone's control. Set between two World Wars and inspired by events in the life of revolutionary anthropologist Margaret Mead, Euphoria is an enthralling story of passion, possession, exploration, and sacrifice.
What I Plan To Read This Week
(click the covers to view at Goodreads)
As Daisy McGovern knows all too well, it isn't easy being a young, small town waitress at the local diner. And it becomes even harder just as she's trying to stitch her life back together and salvage her job by converting the diner into a bakery when a mysterious robbery occurs and one of the thieves ends up dead on the bakery floor with a chef's knife in his chest. Forced into a twisted game of cat-and-mouse that takes her from secretive nip joints overflowing with moonshine to weathered Appalachian mountaintops overflowing with history and guns, Daisy must figure out who the dead man is—and why he was in her bakery—before she becomes the next victim. This is the second entry in a charming series filled with eccentric characters, red herrings, and, of course, moonshine!
Blanca Perea is a college professor in Madrid who seems to have it all. But her perfect career and marriage start to unravel when her husband of twenty years suddenly leaves her for another woman. Devastated, Blanca is forced to question the life she once had and how well she truly knows herself. She leaves Madrid for San Francisco, where she becomes entrenched in the history of an enigmatic Spanish writer who died decades earlier. The more Blanca discovers about this man, the more she is enthralled by the ill-fated loves, half truths, and silent ambitions that haunted his life. With lush, imaginative prose and unforgettable characters, The Heart Has Its Reasons is a journey of the soul that takes readers from Spain to California, between the thorny past and all-too-real present. It is a story about the thrill of creating one's life anew.
"The best way to blend in is to stand out." A twisted tale about Feng Shui, vampires, drinking, pet psychiatry, genocide, belief and mortality… In this darkly comic, slow-burn fantasy thriller, nothing is as it seems. A nightclub opening becomes a fight for life and the discovered fountain of youth hides a movement to exterminate a race.
 ***********