The Its Monday! What Are You Reading meme is hosted at Book Journey.
Life…
It is going to be a little chaotic around here for the next few weeks. Along with the myriad of end-of-year and holiday festivities, I have three birthday parties to plan for – my husband's is on the 23rd December, my youngest son's on the 30th December and my youngest daughter's on the 8th January! It is also my BFF's on the 4th December, my father in law's on the 10th and my brother's on the 18th, but I just have to turn up at those thankfully!
It is the (last) first Monday of the month (for this year)…just 30 days to get those year long challenges taken care of. Luckily I can cross them all off my list – done and dusted!
The Eclectic Reader Challenge 12/12 – Completed!
Australian Women Writer's Challenge 98/50 – Completed!
Aussie Author Challenge 12/12 – Completed!
Around the World in 12 Books Challenge 12/12 – Completed!
 Now I just need to decide what I'll do for next year. I've already posted the sign ups for the 2015 Eclectic Reader Challenge – I hope you will join me.
 What I Read Last Week
Believe No One by A.D. Garrett
Up and In by Deborah Disney
The Not So Secret Emails of Coco Pinchard by Robert Bryndza
Still Alice by Lisa Genova
Whisper the Dead by Alyxandra Harvey
New Posts

(click the titles to read my reviews)
Review: Between Us: Women of Letters by Marieke Hardy and Michaela McGuire ★★★
Review: Believe No One by AD Garrett ★★★★
Review: Merciless Gods by Christos Tsioklas ★★★★
Review: Up and In by Deborah Disney ★★★
Review: The Not So Secret Emails of Coco Pinchard by Robert Bryndza ★★★

Guest Post: Beautiful book posters for bookish people
Stuff on Sunday: Sign Up for the Eclectic Reader Challenge 2015*
What I Am Reading Today
"I fool myself that Eden has a heart – that she would at least have trouble killing me…"
Most police duos run on trust, loyalty, and the desire to see killers in court. But Detective Frank Bennett's partner, the enigmatic Eden Archer, has nothing to offer him but darkness and danger. She doesn't mind catching killers – but it's not the courthouse where her justice is served. And now Eden is about to head undercover to find three missing girls. The only link between the victims is a remote farm where the desperate go to hide and blood falls more often than rain. For Frank, the priority is to keep his partner monitored 24/7 while she's there – but is it for Eden's protection, or to protect their suspects from her?
Across the city at the Utulla Tip, someone is watching Hades Archer, a man whose criminal reputation is the stuff of legend. Unmasking the stalker for him might be just what Frank needs to stay out of trouble while Eden's away. But it's going to take a trip into Hades's past to discover the answers – and what Frank uncovers may well put everyone in danger . . .
What I Plan To Read This Week
(click the covers to view at Goodreads)
An achingly funny story about how to be your own hero when life pulls the rug out from under your feet. From the author of the bestselling YOU HAD ME AT HELLO
Delia Moss isn't quite sure where she went wrong. When she proposed and discovered her boyfriend was sleeping with someone else – she thought it was her fault. When she realised life would never be the same again – she thought it was her fault. And when he wanted her back life nothing had changed – Delia started to wonder if perhaps she was not to blame…
From Newcastle to London and back again, with dodgy jobs, eccentric bosses and annoyingly handsome journalists thrown in, Delia must find out where her old self went – and if she can ever get her back.
Savannah Smith's been hurt by life. She doesn't need people, then she meets Ethan Daly. In the peace of Riverboat Point, magic can happen. Savannah has a chip on her shoulder. And no wonder: apart from her tough teenage years, a car accident not only claimed her parents' lives, but left her with permanent injuries. She's not close to her little brother Jax either – although she's always been envious of his ability to just enjoy life. Jax moves to a small town, Riverboat Point, on the Murray River, and asks her to come too. She won't leave the city but when Jax disappears leaving a vague warning to watch out for the neighbours, she's forced to move and take over his houseboat business. With no idea what to watch out for she keeps all the neighbours at arm's length, including the mysterious guy next door, Ethan. Savannah is attracted to her tall dark neighbour but won't admit it. She can trust no one. In spite of her fears, they work closely and she can't deny the chemistry. Finally, she lets her guard down – only to discover he has been lying to her all along… Will Jax ever return, or has he met with foul play? Who is interfering with the houseboats and stealing from the business? Will Savannah find out the truth about Jax and Ethan's deal … and can she ever trust Ethan again?
Blanca Perea is a college professor in Madrid who seems to have it all. But her perfect career and marriage start to unravel when her husband of twenty years suddenly leaves her for another woman. Devastated, Blanca is forced to question the life she once had and how well she truly knows herself. She leaves Madrid for San Francisco, where she becomes entrenched in the history of an enigmatic Spanish writer who died decades earlier. The more Blanca discovers about this man, the more she is enthralled by the ill-fated loves, half truths, and silent ambitions that haunted his life. With lush, imaginative prose and unforgettable characters, The Heart Has Its Reasons is a journey of the soul that takes readers from Spain to California, between the thorny past and all-too-real present. It is a story about the thrill of creating one's life anew.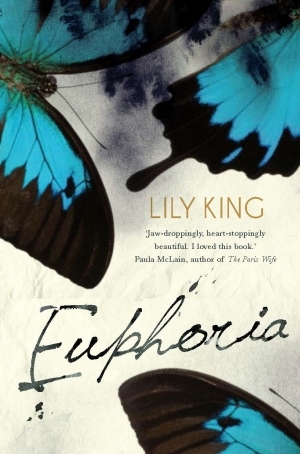 English anthropologist Andrew Bankson has been alone in the field for several years, studying the Kiona river tribe in the Territory of New Guinea. Haunted by the memory of his brothers' deaths and increasingly frustrated and isolated by his research, Bankson is on the verge of suicide when a chance encounter with colleagues, the controversial Nell Stone and her wry and mercurial Australian husband Fen, pulls him back from the brink. Nell and Fen have just fled the bloodthirsty Mumbanyo and, in spite of Nell's poor health, are hungry for a new discovery. When Bankson finds them a new tribe to divert them from leaving Papua New Guinea, the artistic, female-dominated Tam, he ignites an intellectual and romantic firestorm between the three of them that burns out of anyone's control. Set between two World Wars and inspired by events in the life of revolutionary anthropologist Margaret Mead, Euphoria is an enthralling story of passion, possession, exploration, and sacrifice.
"The best way to blend in is to stand out." A twisted tale about Feng Shui, vampires, drinking, pet psychiatry, genocide, belief and mortality… In this darkly comic, slow-burn fantasy thriller, nothing is as it seems. A nightclub opening becomes a fight for life and the discovered fountain of youth hides a movement to exterminate a race.
 ***********
Winner of Breaking Beauty by Lynette Washington (Ed) : Kimberly Z
Winners of Wife on the Run by Fiona Higgins: Helene Y and Stella P